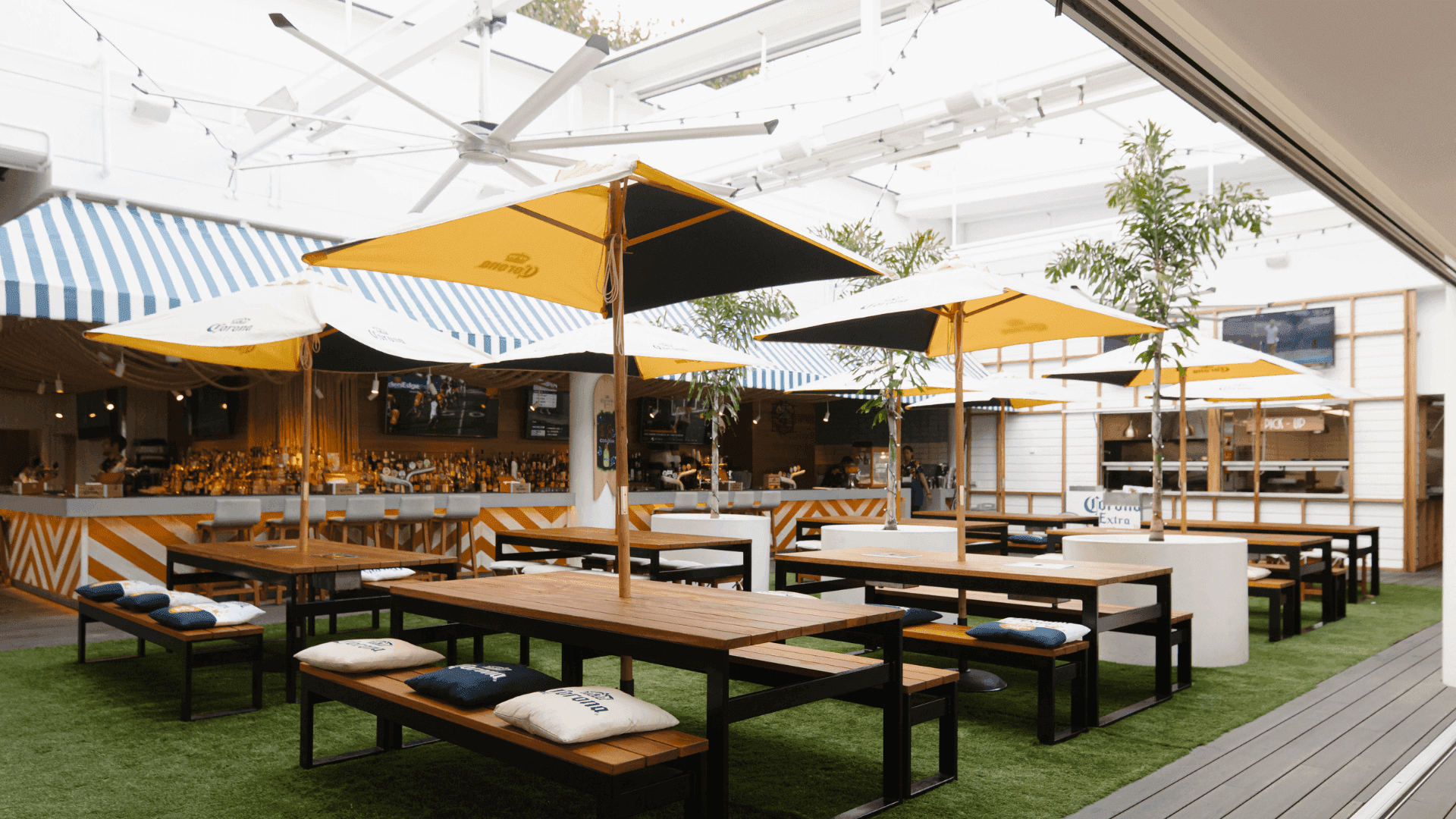 10 of The best Gold Coast Pubs to Visit
Scroll to explore
10 of The Best Gold Coast Pubs to Visit
Famed for its sub-tropical climate, beautiful sandy beaches and a treasure-trove of pubs, lounges, bars and taverns - it's little surprise that the Gold Coast is often considered one of the best beachside destinations to visit in Australia.
Spend the daytime enjoying the sunshine, hitting the surf and exploring the city's many attractions before glamming up and spending the night exploring our vibrant coastal bar scene. Whether you're a fan of sophisticated sips with friends, or romantic couples cocktails by the beach, quench your thirst in style when staying at voco® Gold Coast. Not quite sure where's best to let your hair down? Look no further than these glittering Gold Coast pubs. From iconic Australian surf pubs to low-key lounges, there's something for you on this list.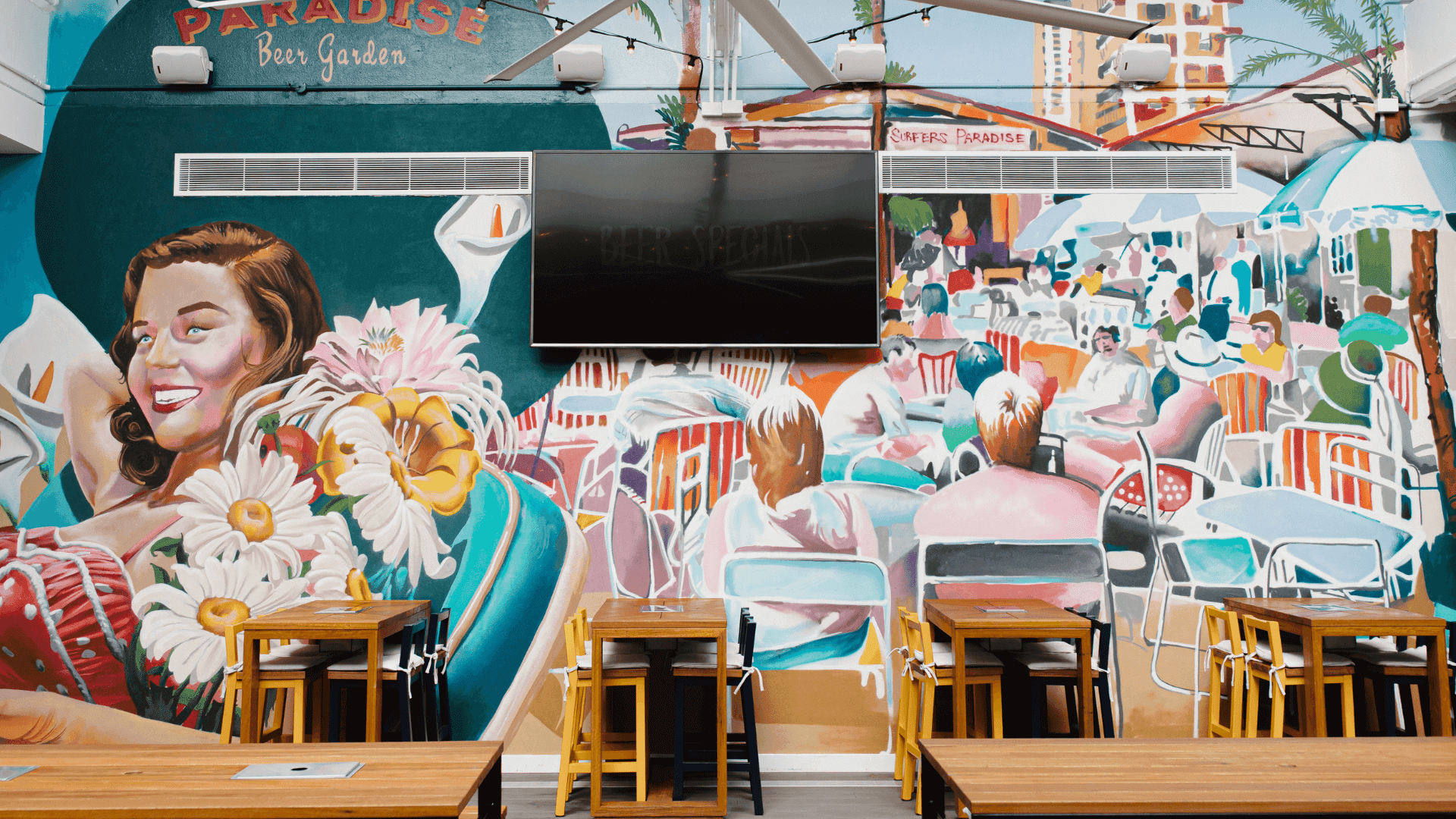 Surfers Paradise Beer Garden
When it comes to Gold Coast vacation vibes, Surfers Paradise Beer Garden is hard to beat. Located just 700m from voco® Gold Coast, pull up a chair on the sun-soaked rooftop deck and unwind with cold beer towers, delicious food and live entertainment as you look out over Cavill Avenue. Release your inner kid in the 'adult playground' with Jenga, Shufl, Foot-Pool and Connect Four ready to awaken childhood nostalgia - or cool off in the air-conditioned bar while catching the latest game on the big screen. Open daily from 10:00 am to 5:00 am, celebrate late into the night just minutes from Surfers Paradise Beach.
Gold Coast Tavern
Nestled on the banks of the Nerang River and just a stone's throw from HOTA, Gold Coast Tavern combines the best of classic Australian pub and upscale bar in one. With generous servings of great pub food, ice-cold beers on tap, and a fantastic selection of wines and cocktails, it's the perfect spot for a relaxing night on the riverside with friends. Be sure to drop in for drinks on a Sunday - with generous jugs of Sangria, house wine, $5 tacos and live music from 2 pm to 6 pm as part of Sunset Sundays. Whether you're in the mood for cocktails under the sun, a long lunch, or a gastropub-style dinner and drinks, Gold Coast Tavern is a great choice.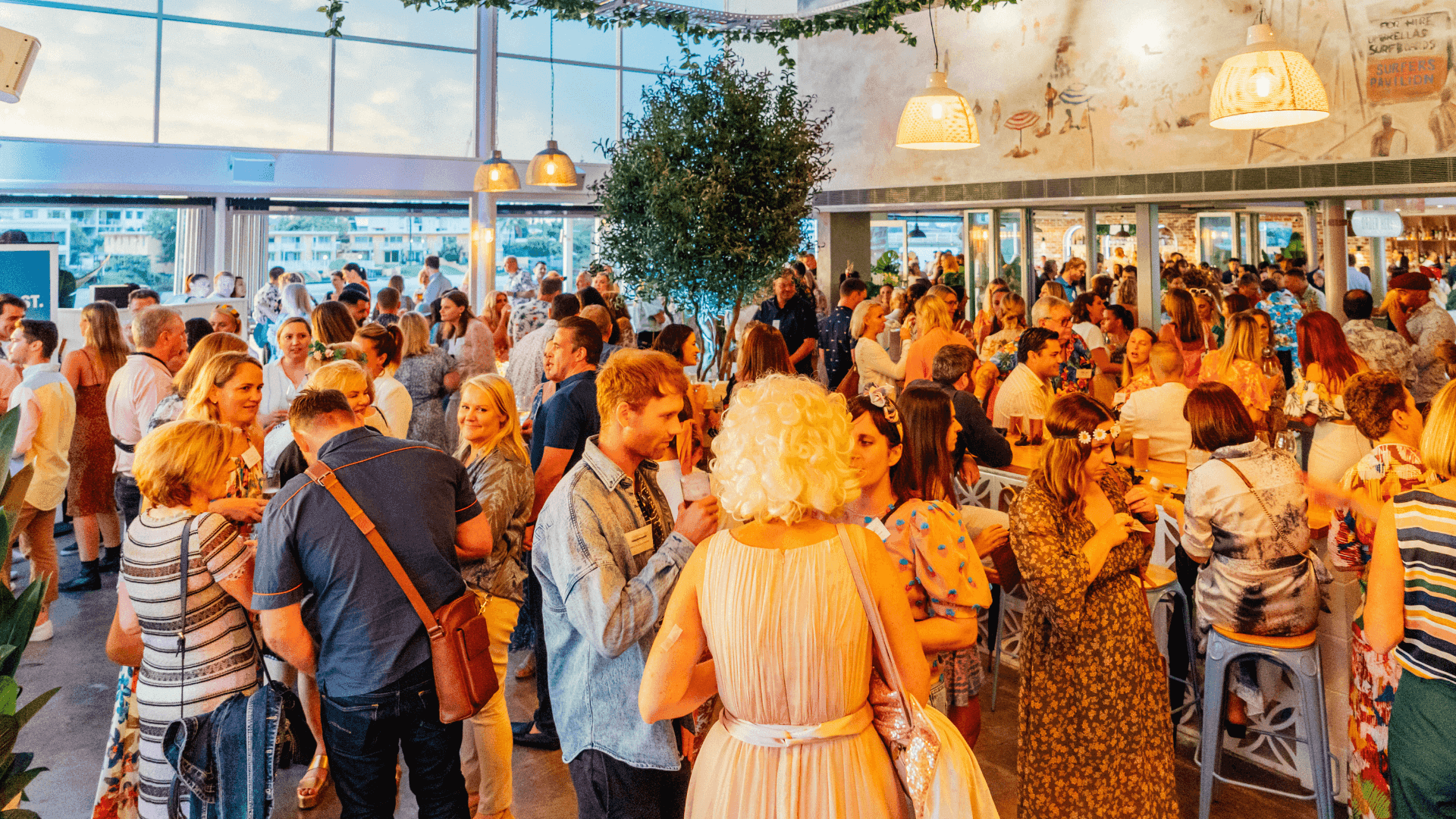 Surfers Pavilion
Located just a few steps from the beach, this trendy Gold Coast pub serves up an extensive menu of classic pub grub and drinks, with plenty of craft beer on tap. The expansive outdoor terrace area at Surfers Pavilion is the perfect spot to relax with friends, providing uninterrupted views of the ocean. Be sure to try a few of their signature cocktails, like The Coconut Pav Colada and the Passion Fruit Crush - each expertly mixed using local ingredients for a genuine taste of the Gold Coast. Located right on the waterfront, you'll be hard-pressed to find a better spot in town for sundown drinks and a bite to eat than here.
HOTA – Exhibitionist Bar
While Exhibitionist Bar is not actually a pub per-se, it is definitely well worth checking out. Located at Home Of The Arts (HOTA) in Surfers Paradise, Exhibitionist Bar has an upscale feel to it. Offering beautiful views from the top floor of HOTA Gallery, enjoy an extensive range of beer and wine, as well as a wide selection of spirits - perfect for relaxing and unwinding after a long day of checking out the exhibitions and expansive grounds. Open from 10 am till late, cocktails to try include Bloody Corpse Reviver, Stardust, and the House Old Fashioned.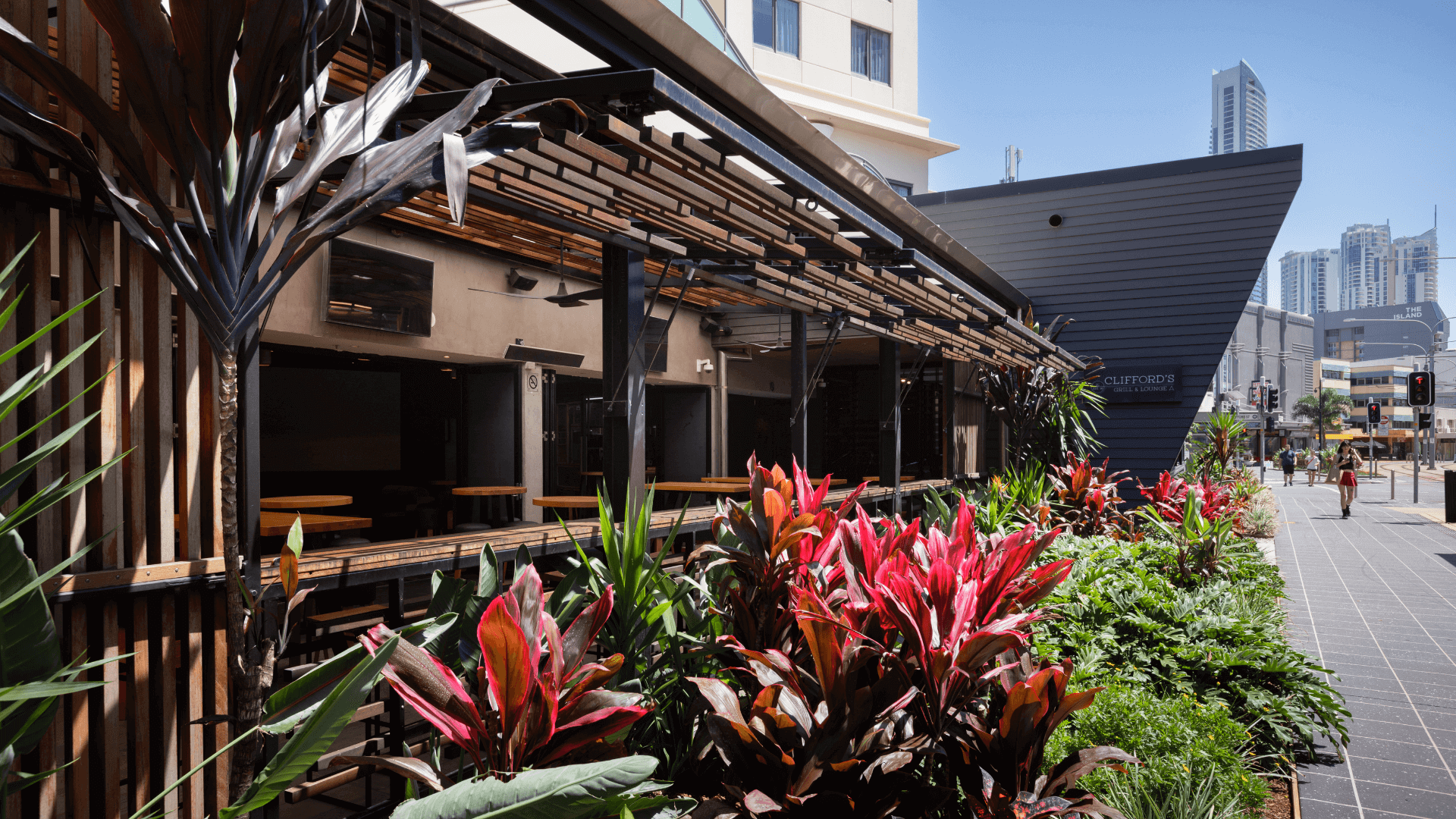 Social House
Soak up traditional Gold Coast pub and tavern vibes at voco® Gold Coast's very own Social House. Serving up adventurous cocktails, craft beers, ciders, spirits and wines - get social with friends, enjoy live weekend entertainment and tuck into mouth-watering dishes designed to be shared. And when the sun is shining, you can take full advantage of it with drinks on Social House's alfresco terrace. Open daily from 10:00 am till late, go from bed to beer in a matter of minutes, ideal for pre-dinner drinks and end-of-night warmers.
The Clock Hotel
Bursting at the seams with genuine Gold Coast charm and character, the Clock Hotel serves up authentic Gold Coast pub in a bustling three-story venue. Open from 10 am till late, 'Clockies', as it is affectionately known combines the best of an Aussie beer garden, basement sports bar and pub. Saturdays are a highlight, with DJs playing classic RnB tunes. The beer garden also plays host to a variety of events such as trivia nights and summer BBQs throughout the year. Located just a short 10-minute walk from voco® Gold Coast, it's the perfect place to let loose with friends on a bucks or hens weekend away.
Burleigh Pavilion
Possibly one of the most iconic pubs on the Gold Coast, Burleigh Pavilion serves sophisticated cocktails and ice-cold beers to one of the best backdrops in the region. Take a seat on the outdoor terrace and enjoy the warm ocean breeze as you watch the sunset over the Pacific Ocean and the Gold Coast skyline burst into light. With great food, local wines and rich spirits to enjoy, it's easy to spend an entire evening at this unique Gold Coast gem!
Waxy's Irish Pub Gold Coast
No list would be complete without featuring at least one Irish pub on the Gold Coast, which is where Waxy's Irish Pub & Skyline Rooftop Bar comes into play. Located just 750m from voco® Gold Coast in the heart of Surfers Paradise, Waxy's is known for its traditional Irish hospitality and authentic Irish tipples. Enjoy a pint of Guinness on the rooftop and sample traditional Irish dishes including shepherd's pie and bangers & mash - with live music, trivia nights and dedicated sports screenings keeping guests entertained long after the sun goes down.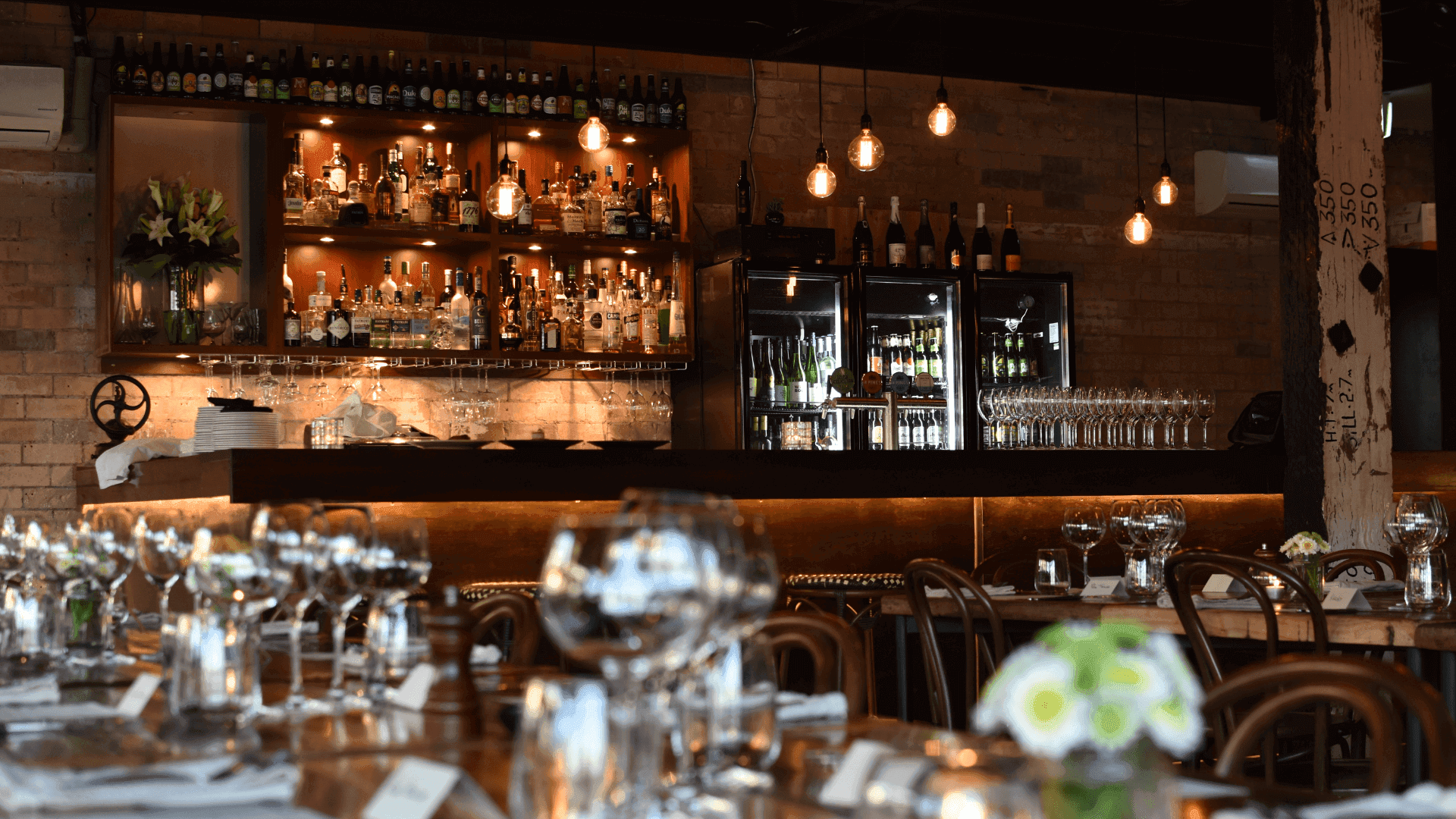 Glenelg Public House
If your search for 'dog friendly pubs Gold Coast' landed you on this page, then this is the pub you've been looking for. Glenelg Public House welcomes dogs of all sizes (leashed, of course) to join their humans in this Gold Coast pub's beer garden. Take five with a cold one and a bite to eat, with fresh bowls of water available for your canine companion. The covered patio is the perfect place to share a steak dinner and sip back a few beers before or after a trip to Mermaid or Nobby Beach. Just a 10-minute drive and a 50-minute walk from voco® Gold Coast, it's perfectly positioned for walkies along the beachfront.
The Miami Tavern
Another hugely popular watering hole in Miami, The Miami Tavern is renowned for its warm and friendly atmosphere and delicious pub grub. Whether you're after an ice cold beer and some good old-fashioned Gold Coast hospitality, lunchtime cocktails and light bites, or a hearty dinner and drinks, soak up wrap-around views of Miami upstairs or let your hair down in the ground floor beer garden and sports bar. With wine, cocktails, spirits and more than 20 beer taps to choose between, quench your thirst with your favourite drinks on Miami's iconic beachfront.

With 389 contemporary and stylish guestrooms, two outdoor pools, a beautiful day spa, and a 24-hour gym - along with our vibrant onsite bars and restaurants, voco® Gold Coast has everything you need for an amazing stay. Take advantage of a prime central location in the heart of Surfers Paradise, with the best Gold Coast pubs and taverns moments away. Book your next getaway today.