5 Hidden Gems on the Gold Coast
Scroll to explore
5 Hidden Gems on the Gold Coast
Home to some of Australia's most iconic beaches, national parks and tourist attractions, the Gold Coast is the ultimate holiday destination for those looking to enjoy the great outdoors. Of course, like most places in the country, the Gold Coast has a few hidden gems that are often overlooked in favour of more touristic activities and attractions up its sleeve.

From man-made islands to beautiful beaches popular with the locals and national parks to kid-friendly oceanside fun, here are some of the best things to do on the Gold Coast during your next stay at voco® Gold Coast.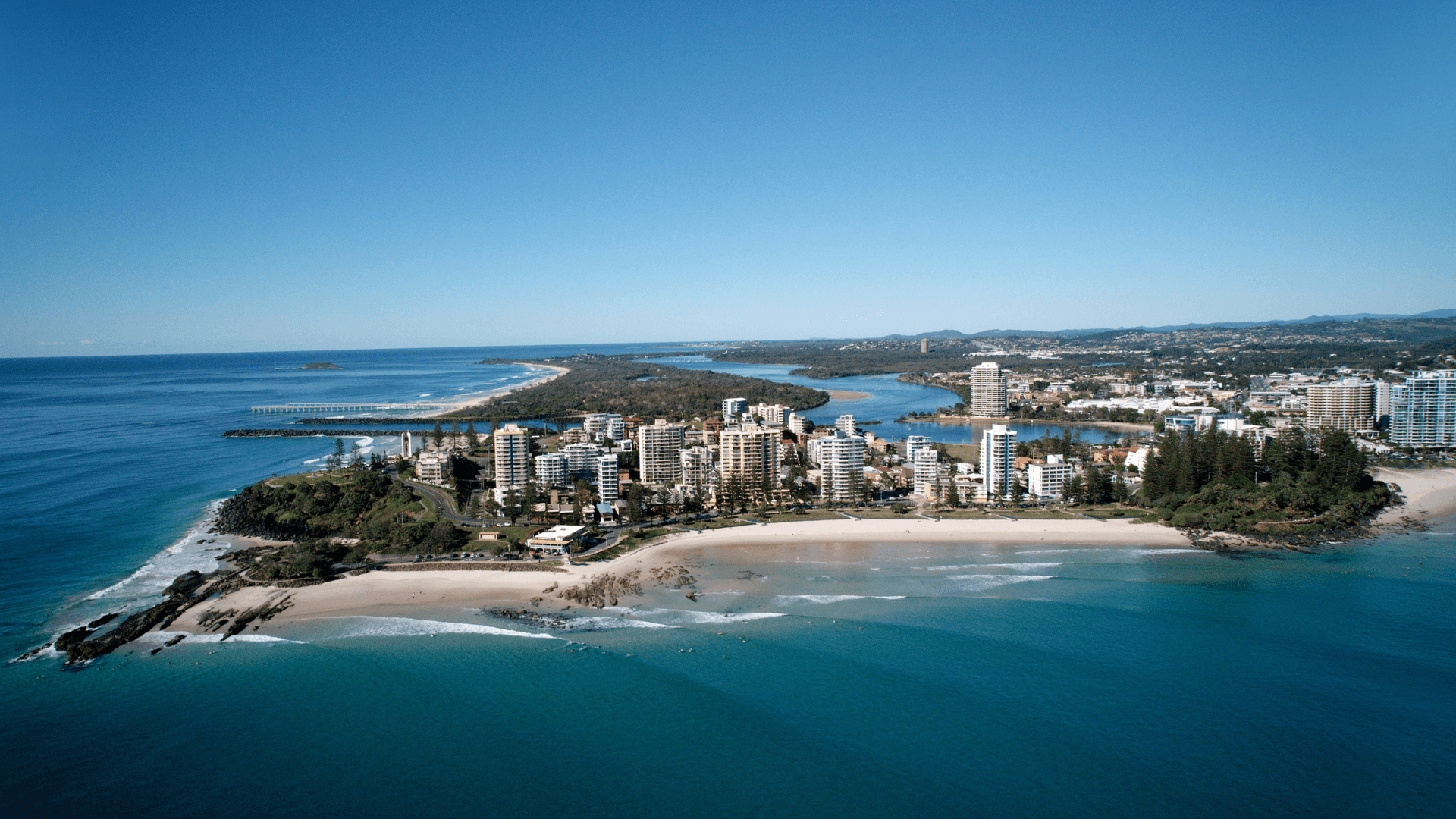 Macintosh Island Park
Nestled amongst the glitz, glamour and sparkle of Main Beach, Macintosh Island Park offers some much-needed respite from the hustle and bustle of the city and beach. Take five beneath a canopy of towering trees and soak up beautiful canal and Nerang river views while the world passes by. Relax to the unmistakable call of the park's free-roaming peacocks and treetops full of birds as you slip into a cosmopolitan oasis just minutes from the beach.
For families travelling with kids under the age of 12, the two large playgrounds provide ample space for them to let loose and make the most of outdoor adventures with swings. slides, climbing frames and caves to explore. Being situated on the edge of the water, there are a handful of small sandy beaches for families to enjoy, perfect for a picnic and a quick dip. With a myriad of fountains, water features and walking trails, it's little surprise that Macintosh Island Park is a local favourite for an afternoon of outdoors fun.
Springbrook National Park
Roughly a 1-hour drive from voco® Gold Coast, Springbrook National Park is famed as being one of the most outstanding areas of natural beauty in the region. Enter a world of lush rainforests, thick with tropical foliage and native flora and fauna, with a backdrop of cascading waterfalls, meandering waterways and spectacular walking trails. Part of the Gondwana Rainforests of Australia World Heritage Area, enjoy undeveloped and uninterrupted beauty at every turn.
One of the main draws to Springbrook National Park is Natural Bridge, home to the illuminated glow worm site considered the best in the country. For those who want to enjoy a spot of wild swimming, Warringa Pool, set amongst a sheltered rainforest gully, is ideal. Whether you want to spend a day of wildlife spotting on one of the many walking tracks, try your hand at waterfall climbing or simply wander at your leisure, Springbrook National Park offers visitors plenty to do, day and night.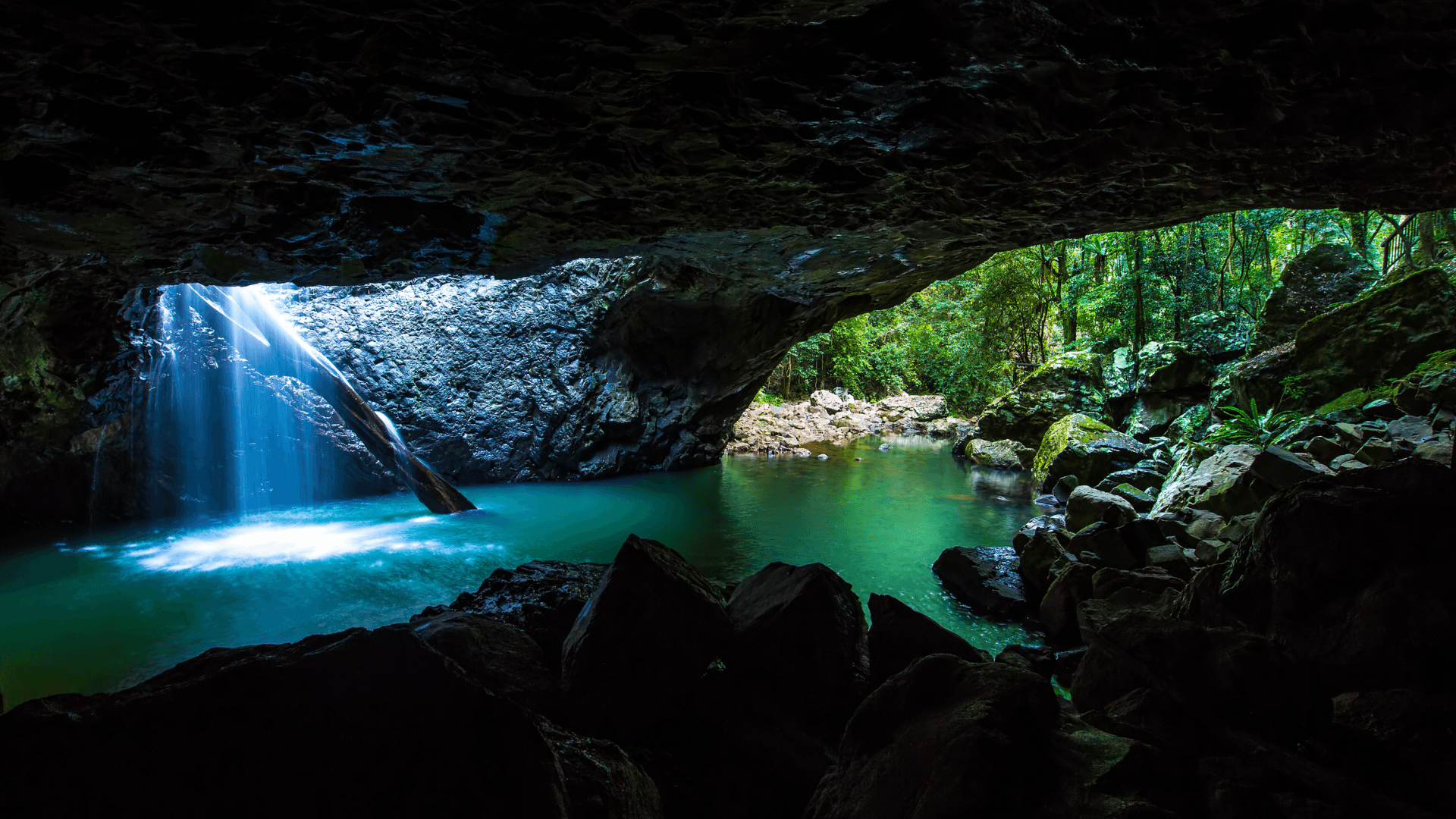 Wave Break Island
Located just 15-minutes from voco® Gold Coast, Wave Break Island is a popular day trip destination for visitors to the region. Constructed in 1985, it has long been a major draw for those looking to enjoy watersports, swimming, diving and beachside activities. Looking back over to the Gold Coast, Wave Break Island also provides a stunning cityscape backdrop perfect for Insta shots. Accessible only by boat, there are no cars or other vehicles on the island, making it safe for all ages.
Thanks to its design as a wave break to prevent the ingress of water, the waters around the island are extremely gentle. Whether you are looking to try your hand at stand-up paddle boarding, offshore snorkelling or enjoy a spot of fishing, you're spoiled for choice. One of the best ways to spend a day here is on a kayak, which can be hired on Main Beach and then paddled across.
Currumbin Rock Pools
While it's easy to think that the Currumbin Rock Pools are located at Currumbin Beach, these natural swimming pools are actually located inland in the heart of the Currumbin Valley. Located creekside approximately 15-minutes from the beach, these popular wild swimming pools are the perfect place for a family afternoon out. Spend a few hours cooling off from the heat of the day in the naturally-fed pools surrounded by towering trees and ample shaded areas.
A hugely popular picnic and BBQ spot with the locals, the rock pools provide a safe space for parents and children to swim, relax and picnic. After a few hours at the pools, why not make your way along the creek toward Currumbin Beach, where you'll find plenty of places to enjoy a bite to eat, shop, and relax on the warm golden sands before making your way back to voco® Gold Coast.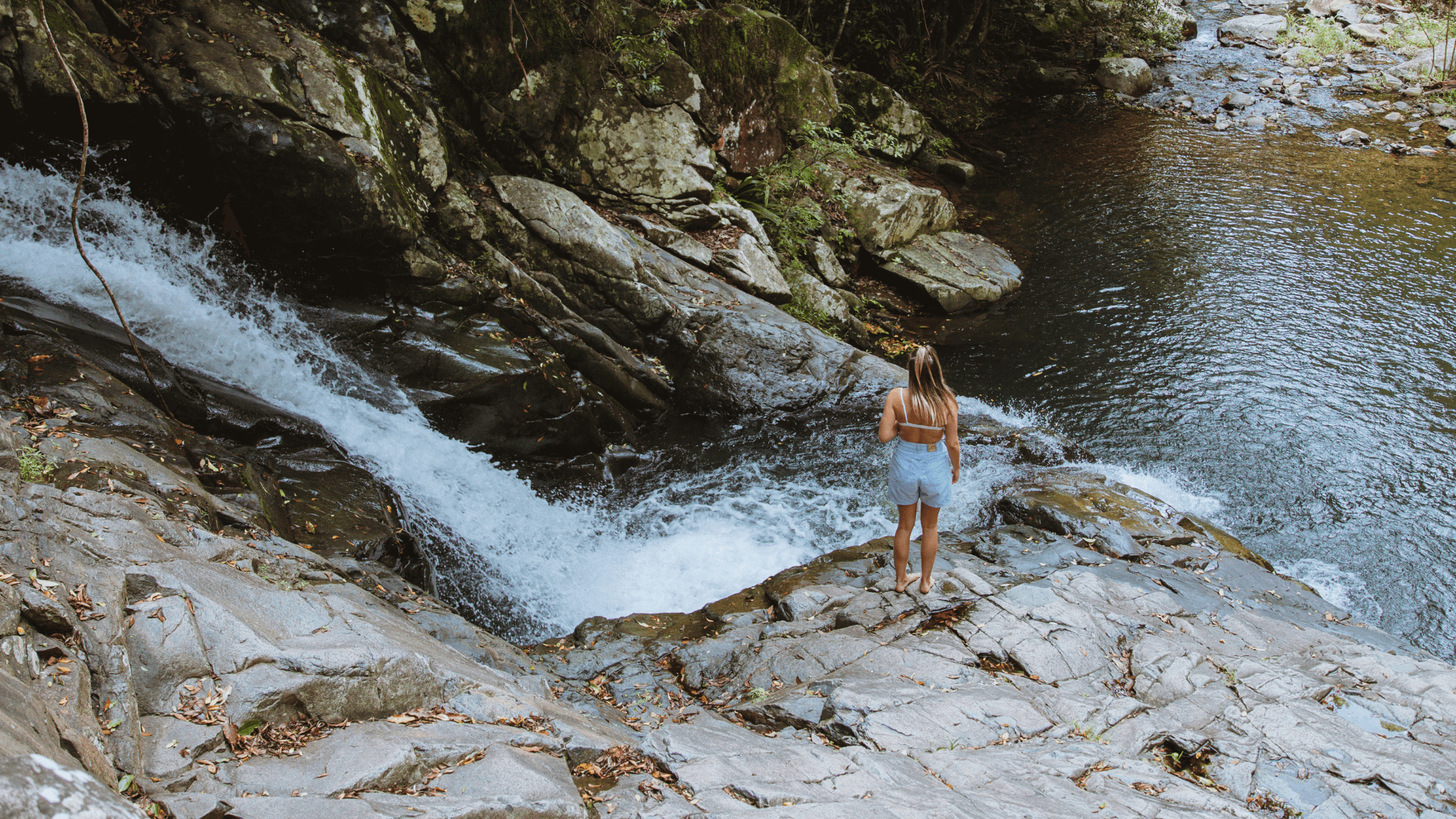 Rainbow Bay Beach
Nestled at the southern tip of the Gold Coast, Rainbow Bay Beach starts at Little Mali and Snapper Rocks, making its way round to Greenmount Point. Thanks to its unique positioning, Rainbow Bay Beach enjoys a sheltered location protected from strong winds. Popular with local Gold Coast families, the picturesque bay is fully-patrolled and serves up some of the best swimming in the area. Nearby, Kirra and Kirra Beach offer a multitude of places to rest and recharge, with a decent bar, restaurant and cafe scene.
Each year, Rainbow Bay Beach hosts the annual Corona Open Gold Coast Surf competition. You'll also find the iconic Gold Coast Oceanway Walk running past the beach, along with plenty of facilities and amenities for a comfortable day out at the beach. From watching migratory whales off the coast to traditional watersport activities and shopping, dining and relaxing - Rainbow Bay Beach is one hidden gem you'll want to visit.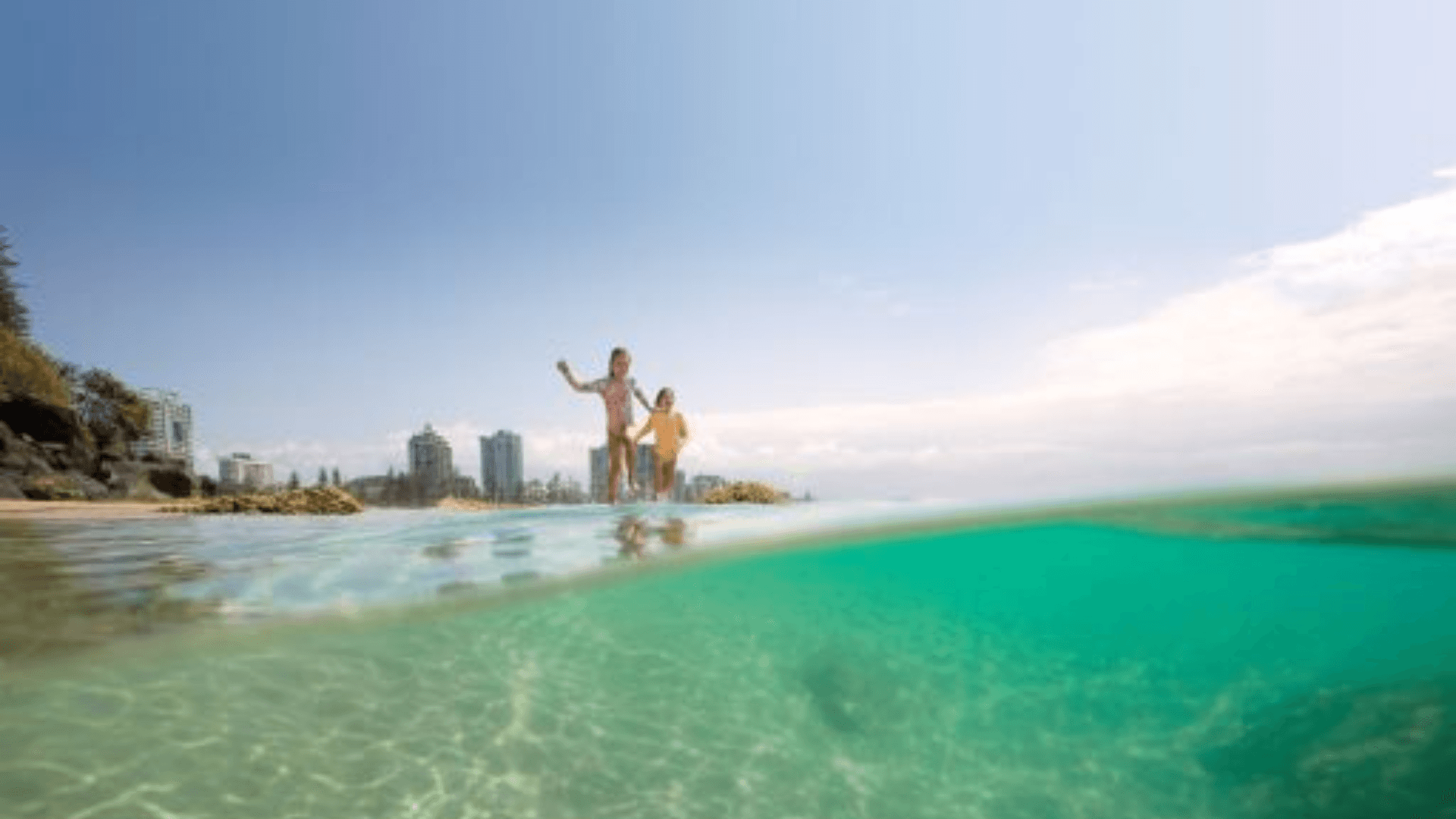 It's All In The Details
Stay in modern, stylish and unstuffy Gold Coast accommodation with a twist when you book a stay at voco® Gold Coast. Check-in, throw on your robe and enjoy a quick espresso on your balcony before making your way to the pools, gym or day spa. Relax in bars and restaurants made for celebratory meals and social get-togethers on the coast, with local flavours and fresh ingredients cooked to perfection.
Enjoy luxurious facilities, world-class amenities, platinum levels of service, and absolute comfort and style from the moment you arrive. Experience the best things to do on the Gold Coast, with iconic landmarks and attractions right on the doorstep, just 30 minutes from the Gold Coast Airport and nearby transport links.