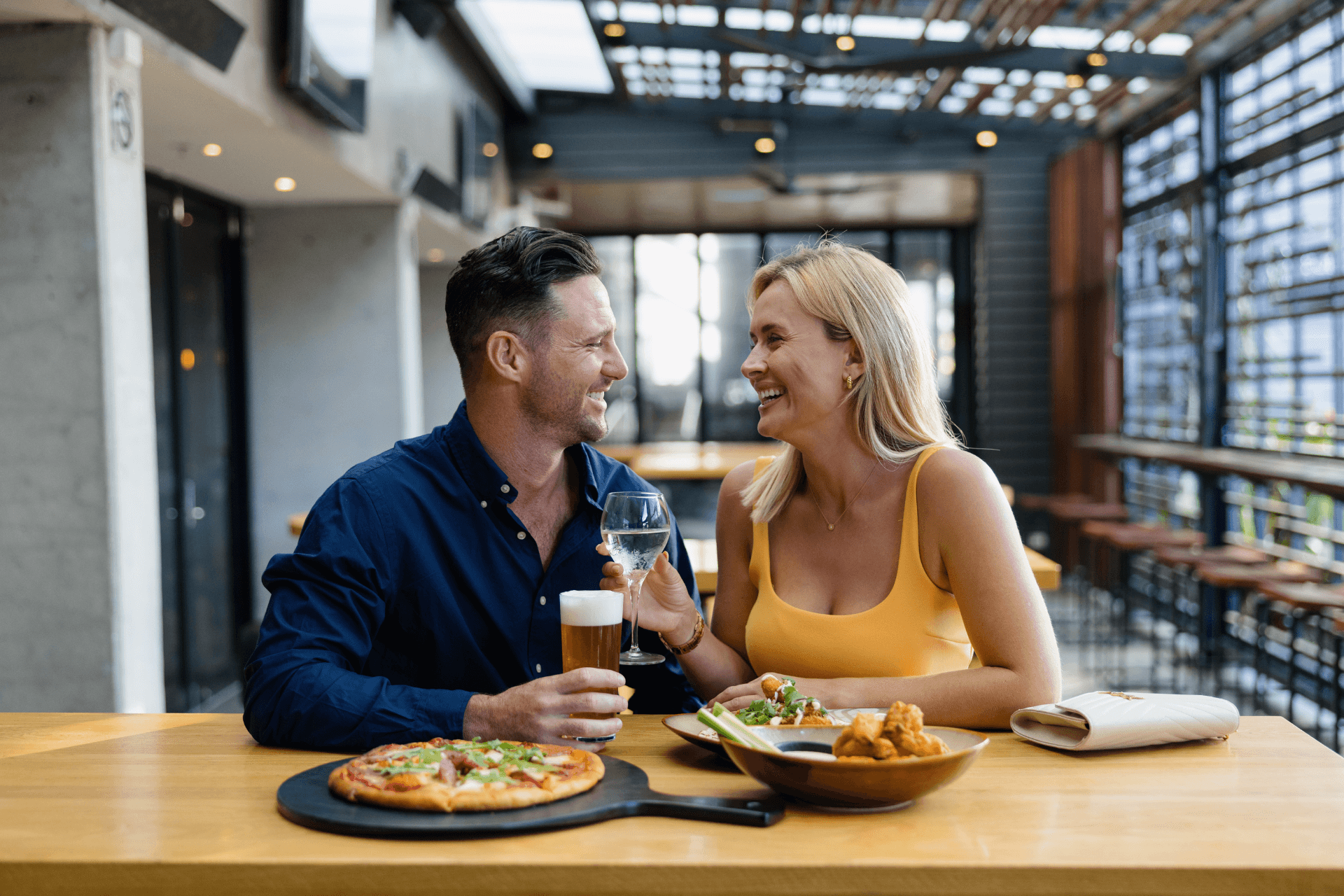 The Best Bars on the Gold Coast
Scroll to explore
The Best Bars on the Gold Coast
Best Bars on the Gold Coast - With its iconic beaches, world-class shopping districts and vibrant nightlife, the Gold Coast is the beachside destination that never sleeps. Spend the day enjoying the beaches of Surfers Paradise, Broadbeach and Burleigh Heads, with great food, local sips and endless fun under the Queensland sun. While life is golden during the daytime, the region comes into its own as the sun drops beneath the horizon, with bars, lounges and clubs throwing their doors open to locals, visitors and fun seekers alike.
When it comes to the best bars on the Gold Coast, you're literally spoiled for choice. From sophisticated cocktail lounges to rooftop drinks with a view, there's something for everyone here. Better still, all of the bars featured are just minutes from voco™ Gold Coast, making it possible to go from bedroom to bar without a car. Throw on your finest and make an evening of it by visiting the best bars on the Gold Coast in 2023 and beyond.
Social House
Conveniently located within voco™ Gold Coast, you'll find the Gold Coast's most celebrated social hangout, Social House. Drop in for cheeky cocktails and delicious bar bites before making your way out for a night on the town, kickstarting your celebrations the right way. From the fun and quirky interior to the inspired bar and beverage menus, discover a little slice of Gold Coast hospitality that welcomes guests noon and night.
Then, after a night of bar hopping, dancing and making the most of the Gold Coast's cosmopolitan nightlife, join us in Social House Cafe for a much-needed 'hug in a mug' with fresh barista-made coffee and healthy bites that are sure to give you plenty of energy for the day ahead.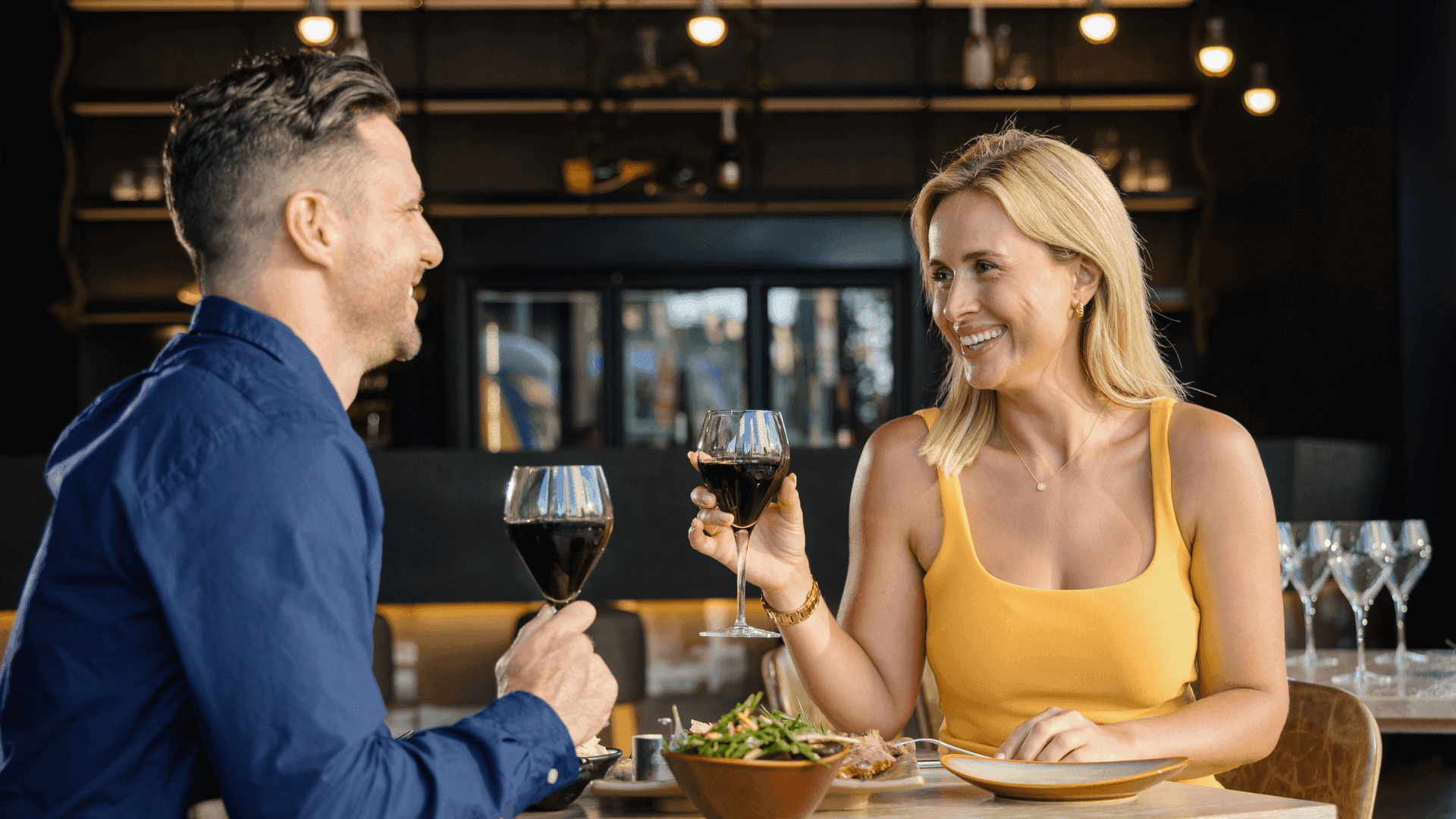 The Island Rooftop
Located just a short 5-minute walk from voco™ Gold Coast, The Island Rooftop combines guest DJs, live music, great food and drink and sweeping views of Surfers Paradise CBD into one iconic venue. Officially the largest open-air rooftop bar on the Gold Coast, The Island Rooftop is popular with cocktail lovers and those looking for a night of drinking and dancing in the heart of the region.
Kick back and relax in an Acapulco chair as you sip on frosted cocktails, local wines and craft beers, taking in uninterrupted views of the sky above. Open every Thursday to Sunday, get together with friends or family and enjoy the relaxing yet buzzing beachside atmosphere at one of the best bars on the Gold Coast.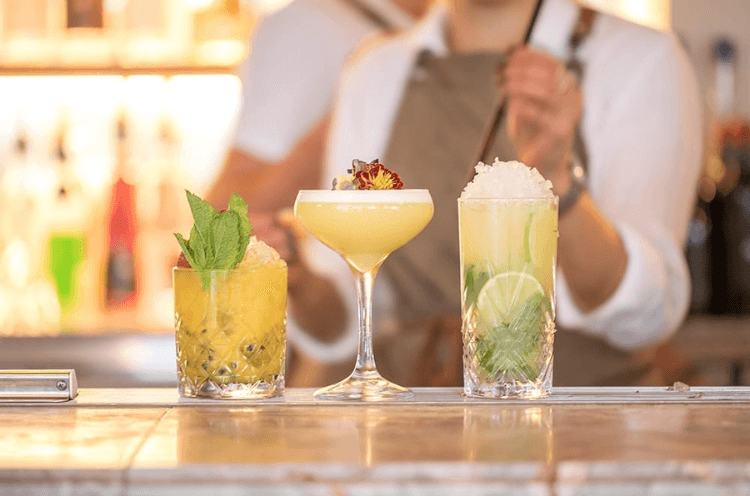 The Roosevelt Lounge
Whether you take a taxi for the 5-minute journey into Broadbeach or jump the G: Link, those in search of a sophisticated, elegant and classy evening will fall in love with the Gold Coast's best boutique speakeasy, The Roosevelt Lounge. Enter a glamorous world inspired by the 1920s golden era, sipping on forbidden cocktails as you're serenaded by the smooth call of the sax.
Pull up a chair in a dimly lit corner as you're whisked back in time, with a sultry ambience and mature crowd looking to experience something with a little bit more soul than your average bar. Open every Friday and Saturday from 5 PM till late. This hidden gem is one to add to your bar-focussed bucket list.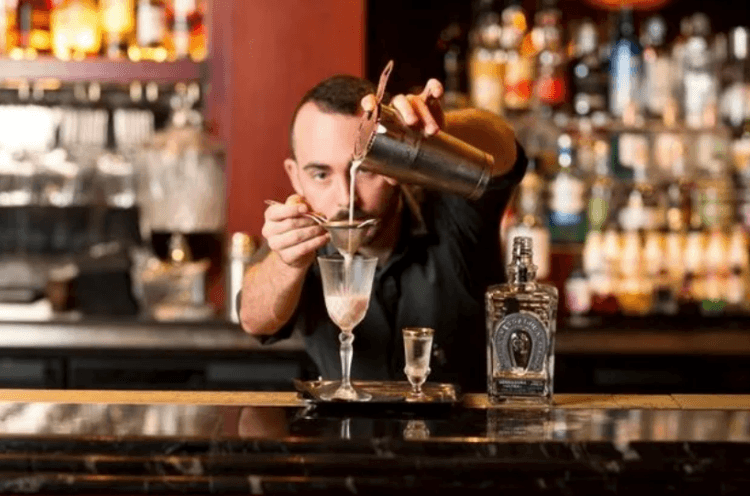 Burleigh Pavilion
Guests staying at voco™ Gold Coast are sure to appreciate the breathtaking beachfront location of Burleigh Pavilion. Take a seat beneath a canopy of white umbrellas and look across the bay to the impressive skyline of Surfers Paradise, cocktail or craft beer in hand and a cool sea breeze in your hair.
Local DJs entertain guests every Wednesday to Sunday, while amazing food and refreshing drinks are served up in The Tropic, the best Mediterranean-Australian fusion restaurant in Burleigh. From bottomless brunches to flavoursome lunches and dinner, drinks and dancing as the sun sets over the ocean - you'll be hard pushed to find a better beachfront bar than here.
Hyde Paradiso
Less than a 15-minute beachfront stroll from voco™ Gold Coast, Hyde Paradiso serves up cool cosmopolitan cocktails, Mediterranean tapas and gorgeous ocean views in one of Surfers Paradise's best 'it' bars. Popular with Seabreeze sunseekers, upscale clientele and lovers of authentic European cuisine, enjoy genuine hospitality and fantastic views with every sip and bite.
Those on a girl's weekend will love the Beachside Brunch, serving up 4 Mediterranean-inspired tapas, 2 hours of Chandon Brut or Chandon Rosé and 2 hours of Aperol, Limoncello and Bellini spritz - all with oceanfront seating. For general visits, Hyde Paradiso is open 7 days a week from 7 AM till Late.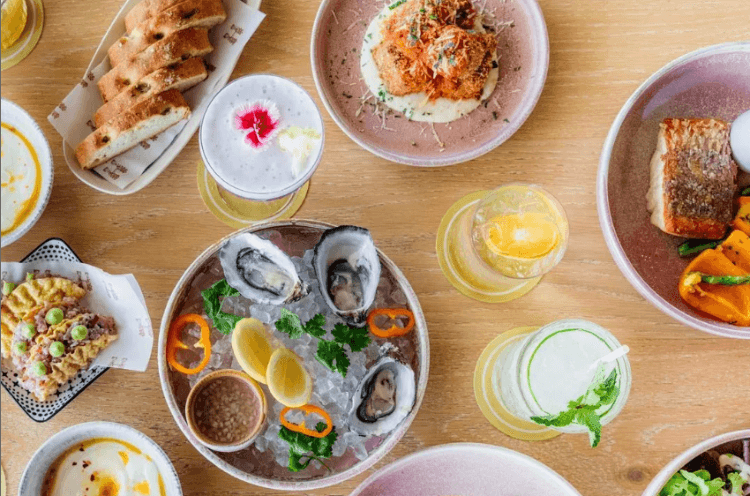 House of Brews
Another popular Gold Coast bar located just a 10-minute walk from voco™ Gold Coast is the centrally-located rooftop cocktail bar, House of Brews. With an impressive 32 craft beers on tap, signature cocktails, an array of gin and plenty of spirits to choose between, quench your thirst and desire for an amazing night out with rock, brews and BBQs.
Bringing a little bit of North American bar and taphouse culture to the Gold Coast, enjoy talented live entertainers, mouthwatering meals and cold glass after cold glass of bubbly, flavoursome brews. Open 7 days a week until 1am, drop in for the beer and rock out for the rest of the night.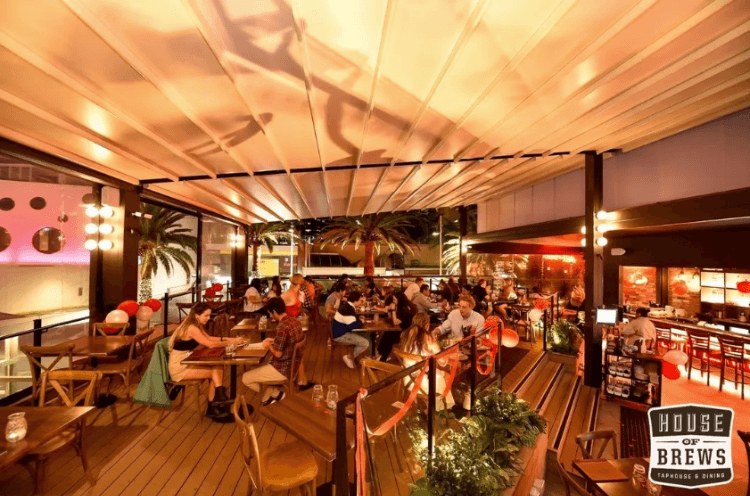 The Cambus Wallace
When searching for the best bars on the Gold Coast, The Cambus Wallace is another popular Gold Coast hangout. Situated in Nobby Beach, it offers a unique experience with its nautical-themed decor and delicious cocktails. Named after a famous shipwreck, this bar serves up a wide selection of rum-based drinks, as well as other classic cocktails.
They also have a great selection of craft beers and wines for those who prefer something different. Enjoy the relaxed and cosy atmosphere while sipping on your favourite drink. The Cambus Wallace is a great place to unwind and socialise with friends. Open from 5 pm till late Tuesday to Sunday.
Soho Bar
Soho Bar is one of the best cocktail bars on the Gold Coast, offering a vibrant and energetic atmosphere. Located in the heart of Surfers Paradise, Soho Bar is known for its stylish decor, lively music, and extensive drinks menu. Whether you're in the mood for classic cocktails, premium spirits, or unique house creations, Soho Bar has something to suit every taste.
With live DJs and an impressive dance floor, you can dance the night away or simply relax in one of their cosy booths. Soho Bar is the perfect spot for a night out with friends or a fun-filled weekend party.
Surfers Paradise Beer Garden
Located in Surfers Paradise, Surfers Paradise Beer Garden is a popular bar that offers a lively atmosphere, an impressive drinks menu, and live entertainment options. With both indoor and outdoor spaces, this venue is a versatile spot to socialise and enjoy drinks.
Visitors can catch their favourite sports events on multiple high-definition TVs, or host private functions for group events. Recently refurbished to provide a modern and comfortable setting for guests, Surfers Paradise Beer Garden promises an enjoyable experience for all visitors
Finn McCool's Surfers Paradise
Finn McCool's Surfers Paradise is a popular Irish pub located in Surfers Paradise, Queensland. This lively venue offers a unique and immersive experience with its Irish-themed decor, traditional pub food, and an extensive selection of drinks. Whether you're craving a pint of Guinness, a whiskey flight, or a hearty Irish meal, Finn McCool's has got you covered.
The Exhibitionist Bar HOTA
The Exhibitionist Bar is a rooftop bar located at the HOTA Gallery in Surfers Paradise, Queensland. Customers can take in breathtaking views across the Gold Coast to the Hinterland while enjoying a diverse menu of specialty cocktails and shareable bar food inspired by the major art exhibitions showcased at HOTA. The bar is open at varying hours on different days, so it is recommended to check their website for the most recent information.
Sandbar Surfers Paradise
Sandbar Surfers Paradise is a popular beachfront bar and restaurant located in Surfers Paradise, Queensland. Situated along the iconic Surfers Paradise Beach, Sandbar offers stunning ocean views and a relaxed atmosphere for guests to enjoy. Whether you're looking to grab a refreshing cocktail, indulge in delicious cuisine, or simply unwind with friends, Sandbar has something for everyone.
White Rhino Bar & Eats
White Rhino Bar & Eats is a trendy and innovative bar and restaurant in Surfers Paradise, Queensland. The diverse menu combines new and classic flavours, serving juicy steaks, vegetarian options, and fresh seafood to please any and all tastes. Skilled mixologists offer extensive selections of craft beer, wine, and creative cocktails. The stylish and contemporary bar and restaurant offers a vibrant atmosphere with sleek furnishings. White Rhino also provides an outdoor seating area to enjoy your meals and drinks while admiring Surfers Paradise's bustling energy.
Stay with us
Discover Gold Coast accommodation with a difference when you check-in to voco™ Gold Coast.  Relax in comfy, inviting and unstuffy rooms and suites in the heart of Surfers Paradise, with world-class facilities, onsite bars and restaurants. Take a shower, throw on your robe and enjoy the view before making your way out into Surfers Paradise and the best it has to offer right on your doorstep.
Whether you're looking for somewhere to call home while you explore the best bars on the Gold Coast, somewhere near amazing family-friendly attractions and activities, or somewhere to get down to businesses, we have room for everyone. Ready to discover the Gold Coast in style? Book a Stay