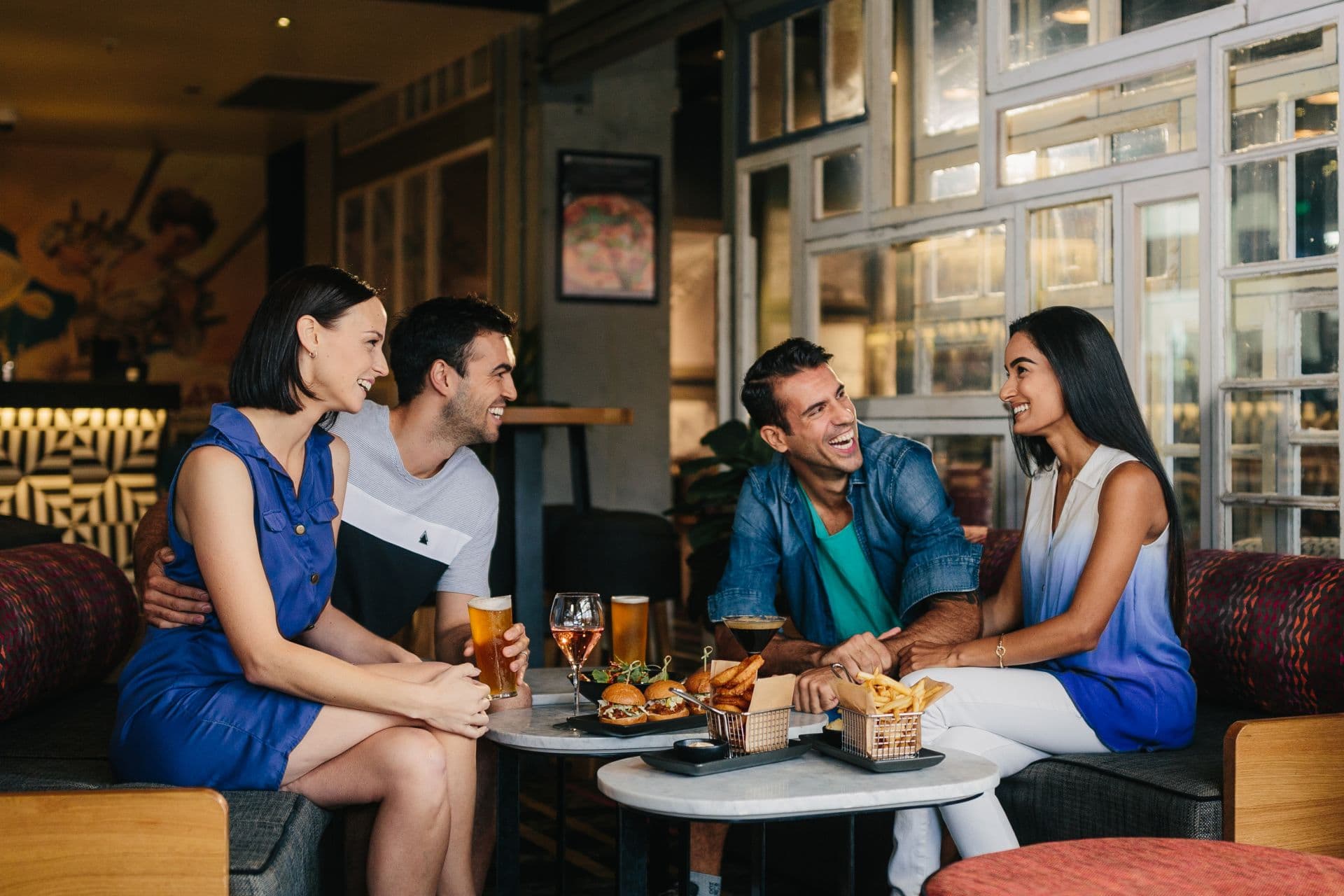 5 Hidden Gems on the Gold Coast
Scroll to explore
5 Hidden Gems on the Gold Coast
Home to some of Australia's most iconic beaches, national parks and tourist attractions, the Gold Coast is the ultimate holiday destination for those looking to enjoy the great outdoors. Of course, like most places in the country, the Gold Coast has a few hidden gems that are often overlooked in favour of more touristic activities and attractions up its sleeve.
From man-made islands to beautiful beaches popular with the locals and national parks to kid-friendly oceanside fun, here are some of the best things to do on the Gold Coast during your next stay at voco® Gold Coast.
10 Best Kid-Friendly Activities on the Gold Coast:
1. TimeZone: Indoor family theme park
If you are staying in Surfers Paradise and looking for things to do with kids, then Time Zone indoor family theme park is a must. With activities including laser skirmish, dodgems, mini golf, Jurassic Park motion, mini riders, simulators, ten-pin bowling and hundreds of arcade games, fun is guaranteed. TimeZone is just an 8 minute walk from voco™ Gold Coast and is open from 9 am to midnight 7 days a week.
2. The Wax Museum: Meet your favourite celebrities
Just a 15 minute walk fromvoco™ Gold Coast, The Wax Museum is filled with famous faces, a gruesome torture chamber and lots of interactive fun. Open 7 days a week from 10 a.m to 6 p.m, it is the perfect place for your kids to meet their idols, take a few selfies and discover more about some of the southern hemispheres most influential and famous people.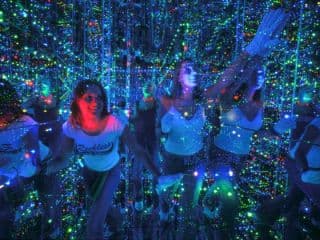 3. Infinity attraction: Special effects funhouse
Infinity attraction is another school holiday activity that will not disappoint. This mind-blowing futuristic world filled with special effects and virtual reality mazes is the perfect family-friendly activity on the Gold Coast. Experience a sensory overload with your little ones as you are transported across 20 different environments. Open from 10 am to 10 pm seven days a week, infinity attraction is just a 10 minute walk from voco™ Gold Coast.
4. Ripley's Believe It or Not: Bringing the bizarre to life
When it comes to the most unusual and unbelievable family-friendly school holiday activities on the Gold Coast, it's hard to go past Ripley's Believe It or Not. It is filled with interactive displays, mind-boggling illusions and lots of kid-friendly fun. Located just a 10-minute walk from voco™ Gold Coast, Ripley's Believe It or Not Surfers Paradise is open from 9 am until 10 pm, 7 days a week.
5. King Tutts Putt Putt: Crazy golf for kids
Located just a 20-minute beachfront stroll along Surfers Paradise Boulevard is King Tutts Putt Putt. With three different themed miniature golf courses, including an outdoor course, the Jurassic golf course and the Egyptian golf course, there is something to please everyone. With two of the miniature golf courses being indoors, it is the perfect place to head on a rainy day or to escape the heat of the sun. The miniature golf course is open from 9 am to 9 pm 7 days a week.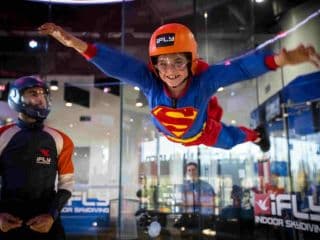 6. iFly Gold Coast: Indoor skydiving
Just a short four minutes stroll away from the voco™ Gold Coast is the iFly Gold Coast Indoor skydiving center. You and your kids can experience the weightless thrills of skydiving without actually having to leap out of a plane. Open from Monday to Friday from 11 am to 9 pm, 8:30 am to 9:30 pm on Saturdays and 8:30 am to 7 pm on public holidays and Sundays. Kids as young as three are able to experience the feeling of free falling 14,000 ft and the specially designed wind tunnels.
7. 7D Cinema: Virtual reality at its best
What better way to spend the kids' school holidays than at the 7D cinema in Surfers Paradise? With the latest in virtual reality technology, you and your kids don't just watch a movie; you become a part of it. Each ride lasts for roughly 8 minutes and is a school holiday experience on the Gold Coast that kids will love. The best part is that it is just a 10 minute walk from the voco™ Gold Coast, the 7D Cinema is open seven days a week between 9:30 am and 10 pm.
8. Strike: bowling, escape rooms and karaoke
Strike is more than your average ten-pin bowling alley. Inside you will find a variety of escape rooms and private karaoke rooms. Spend a couple of hours bowling before getting locked into one of the escape rooms as a family. For adults, there is a fully licensed cocktail bar, so you can relax while your kids have fun. If the younger ones get peckish, you can treat them to a pizza before belting out some of your favourite tunes in the karaoke rooms. Strike is just a walk from voco™ Gold Coast and is open from 10 am to 12 am, 7 days a week.
9. Aquaduck safaris: Gold Coast river cruise
Aquaduck safaris are one of the best Gold Coast school holiday activities to enjoy as a family. Hit the waterways on one of the cruise boats and take in the best views of Surfers Paradise that you can't see on land. Located just a 7 minute walk from voco™ Gold Coast, you will make your way along some of the famous Surfers Paradise beaches, glitzy mansions and iconic landmarks. Kids will love riding the duck boat and can even take the wheel and drive it themselves. Tours depart 7 days a week every 1 hour and 15 minutes from 10 a.m to 5:30 p.m.
10. Surfers Paradise Beach: sun, surf and sand
It goes without saying that spending a day or two at the beach is an absolute must during the school holidays. With the beautiful and pristine beach just four minutes walking from voco™ Gold Coast, endless fun of building sand castles and frolicking in the gentle surf is to be had. The towering Surfers Paradise skyline perfectly frames the beautiful white sand beach and when the kids are well and truly worn out, you can be back in your hotel room within 5 minutes.
Stay In The Heart of Surfers Paradise
When it comes to travelling with kids during the school holidays, being in the heart of the action makes the experience a positive one. Check out our hotel deals to book the best family-friendly accommodation in Surfers Paradise.
With free high-speed Wi-Fi, an outdoor swimming pool, a fitness center, the L'aqua Day spa and a variety of restaurants and bars on-site, everyone from the youngest to the oldest is catered for.
Get the best deals on Surfers Paradise accommodation at voco™ Gold Coast when you book with us directly. School holidays have never been so much fun!