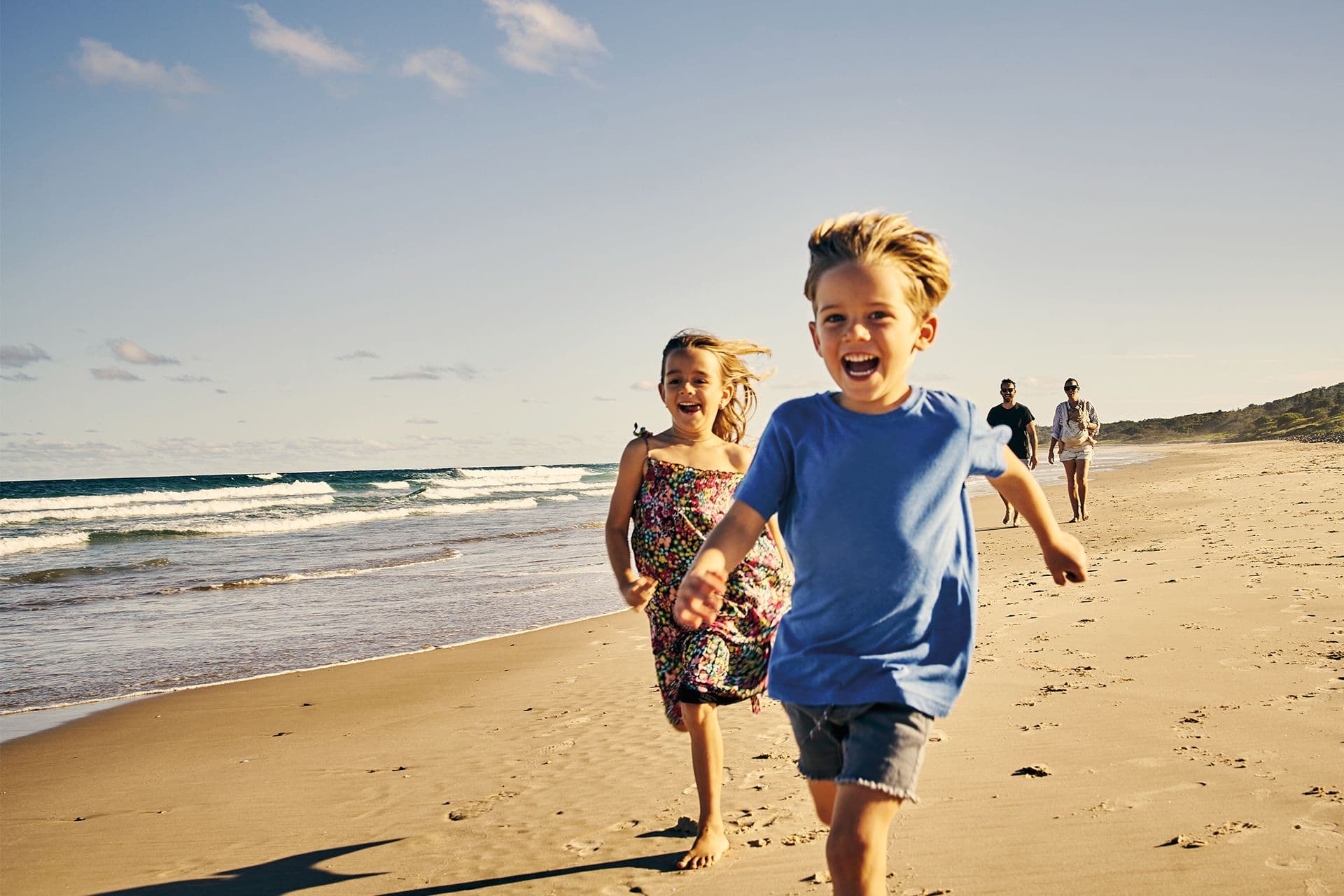 11 Fun Things to Do on the Gold Coast for Free
Scroll to explore
The Gold Coast is the ultimate playground for beach lovers, surfers and family holidays. From Surfers Paradise to Burleigh Heads and beyond, unspoilt beaches, national parks, museums and open-air fun are to be found everywhere. However, staying at one of the most popular holiday destinations doesn't have to mean expensive.
There are lots of family-friendly and wallet-friendly activities to enjoy. Forget about overpriced water parks and indoor attractions. This part of the world is all about getting outdoors and making the most of what's on offer.
To save you the time and effort of hunting down things to do in the Gold Coast for free, we've pulled together a list of some amazing, cash-free activities. All you need to do is pack your swimmers, charge your camera and get ready for a holiday that memories are made of.
Currumbin Rock Pools
Surfers Paradise Beachfront Markets
Awesome Central Coast Festivals in 2020
Whale Watching
Beach-Hopping Days
Springbrook National Park
Gold Coast regional Botanic Gardens
Feed The Pelicans at Ian Dipple Lagoon
Southport Rockpools & Broadwater Parkland
Federation Walk Coastal Reserve
Gold Coast City Art Gallery (HOTA)
Choosing the Best Gold Coast Accommodation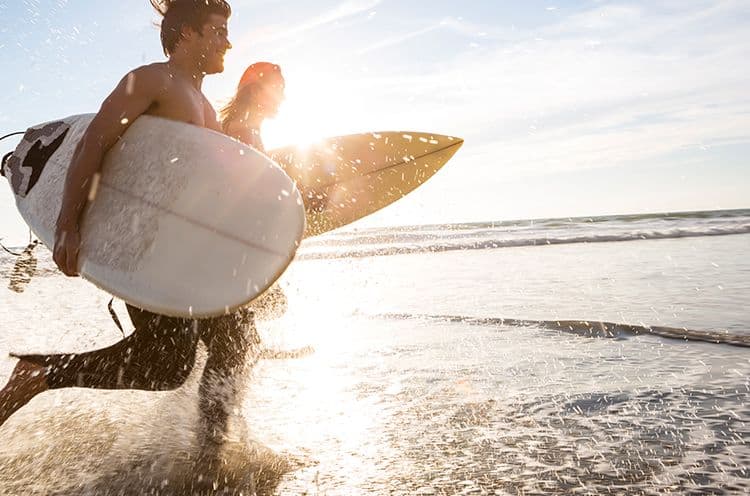 1. Currumbin Rock Pools
Pack a picnic, throw on a bathing suit and get ready to discover one of the Gold Coast's best hidden gems, the Currumbin Rock Pools. Just 30-minutes by car from the hotel, it's a place where childhood memories are made. Rock pools come in all different depths and current speeds, making them the perfect place for the whole family.
Spend the day soaring above the creek on one of the many rope swings. Test your nerve by leaping off of the ledges into the cool water below. Or just pitch up on a rock and soak up the rays as you listen to the water gently trickling by. Surrounded by nature, it's a rare treat that lets you disconnected from daily life and rediscover the beauty of Australia.
Just a short 800 meter walk takes you to the cascading waterfalls that feed to pools below. It's here that you'll find an original bush sawmill, perfect for exploring and snapping a few shots for Instagram. When it comes to free things to do on the Gold Coast with kids, this one is hard to beat.
2. Surfers Paradise Beachfront Markets
Just a short 15-minute walk from the hotel, you'll find the Surfers Paradise Beachfront Markets. With a modern yet traditional vibe, it's the ultimate place to stock up on trinkets and souvenirs during your holiday. Of course, this list is all about free things to do, so what is there to see without needing to reach into your pockets?
The street performers and live music are enough of a draw on their own. You can chat with the artists and stall holders to learn more about how they craft and create their products. Or you can just enjoy browsing through the handmade artisan goods. You'll probably want to spend a few dollars here though, as the products on offer are almost irresistible.
Once you've had your fill of the Beachfront Markets, a stroll along the shoreline is the perfect end to the day. Enjoy the warm breeze coming off the ocean and take five before hunting down the perfect place for dinner. The markets open at 3pm and wind down at 8pm every Wed, Fri and Sun, making them a perfect school holiday activity.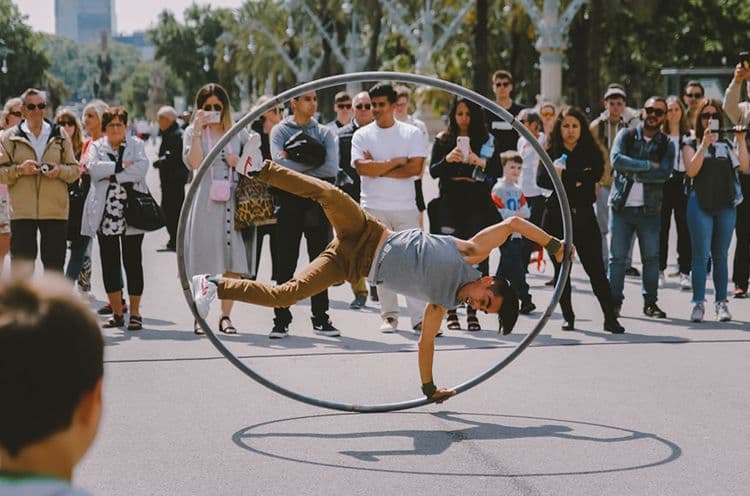 3. Enjoy the Gold Coast Festivals
If you're looking for something exciting to do that doesn't cost a dollar, then festivals should be on your itinerary. The Gold Coast is home to many different festivals throughout the year, with most being family friendly.
Surfers Paradise Festivals 2020
14 FEB - 1ST MARCH: SAND SAFARI ARTS FESTIVAL
An amazing celebration of everything to do with sand and sea, the Sand Safari Arts Festival is a hugely popular event. Discover enormous sand sculptures, live entertainment, mesmerising art installations, and sand sculpting demonstrations. This year, the theme is all about fairy tales. Perfect for capturing the imagination of little ones.
10TH - 13TH APRIL: AUSTRALIAN STREET ENTERTAINMENT FESTIVAL
Over the Easter long weekend, Surfers Paradise is home to the Australian Street Entertainment Festival. A huge array of live performances such as comedy, magic, dance, music and acrobatics bring the streets to life.
30TH APRIL - 10TH MAY: SURFERS PARADISE LIVE
Surfers Paradise Live stretches out over four days and brings the city to life with the beat of music. This music festival is one of the best free things to do on the Gold Coast at night. Throw on your dancing shoes and get ready to dance the night away.
12TH JUNE - 13TH JUNE: SEAFIRE FESTIVAL
For two nights in June, Surfers Paradise becomes an explosion of entertainment, music and light. Countries from around the world take part in the only international fireworks competition in Australia. Kick back and take in the light show for free.
10TH - 19TH JULY: VIVA SURFERS PARADISE
With plenty of free shows to attend, Viva Surfers Paradise brings music to life from across the decades. This 10-day event is the pinnacle of the festival season and is absolutely perfect for music lovers to feed their passion.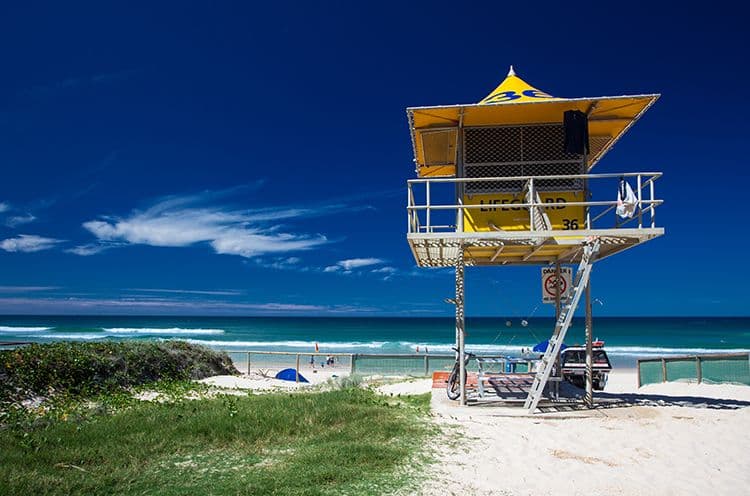 4. Whale Watching
Each and every year, humpback whale migration makes its way past the Gold Coast. This gives ample opportunity for you to see them in real life. The best part is that you don't have to head out into the ocean to catch a glimpse. Especially when many of the elevated headlands work just as well.
It's surprising just how close to shore the whales come as they pass by. Both Burleigh Heads National Park and the Miami Headland are great places to go whale watching. The best time of year to view the whales is from May to October.
Nobody knows when or where the whales will appear, so it's a good idea to pack up a picnic to enjoy while you wait. In both of these areas, there are also some fantastic walking trails and sweeping views of the coast line to take in. A great way to spend the day for the whole family.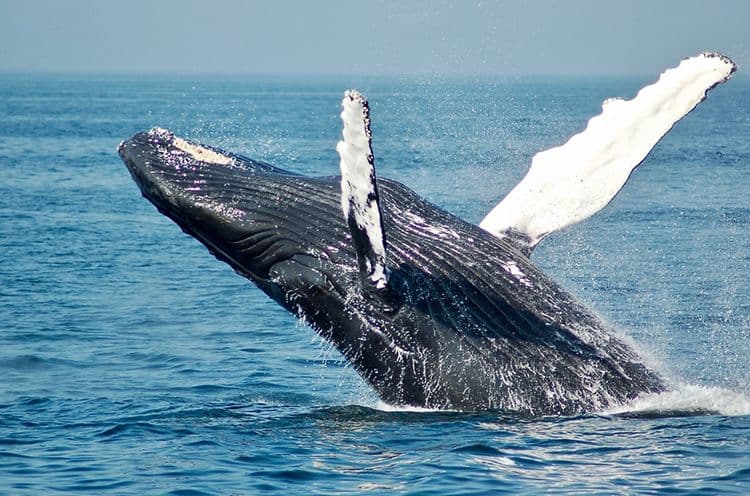 5. Go Beach-Hopping
When people think about the best Gold Coast beaches, Surfers Paradise always comes out on top. It really is the poster child for the area. However, you are spoiled for choice when it comes to beaches. Especially when you consider the coast is made up of over 56 km of unspoiled, pristine beaches.
Whether you're more into surfing or prefer something more suitable for the kids, there is definitely a Gold Coast beach perfect for you. Here are some of the best nearby beaches to explore:
Tallebudgera Creek
Main Beach
Broadbeach
Mermaid Beach
Nobby Beach
Burleigh Heads
Currumbin
Rainbow Bay
Coolangatta Beach
When having a beachside holiday, hitting the beaches is one of the best free, fun-filled ways to spend your days. With so many options available, you can literally spend every day of your vacation on a different beach, helping you keep each day fresh and unique.
6. Glow Worm Extravaganza
Make your way into the Gondwana Rainforests for a truly spectacular experience the whole family will love. In the Western quarter of Springbrook National Park is the Natural Bridge. Here, you'll be greeted by cascading waterfalls, stunning rock formations and the 1km walking trail.
As you slowly descend into the Gondowa basin, you'll spot plenty of local wildlife. From koalas and tree frogs to sooty owls and green catbirds. The stars of the park are the magical glow worms and glowing fungi.
The best way to safely see the forest light up at night is as part of a guided nocturnal tour. You'll be taken into Cave Creek, which takes on a whole new look and feel at night. The forest comes alive with the sound of crickets and frogs while glow-worms and luminous fungi put on their very own natural light show.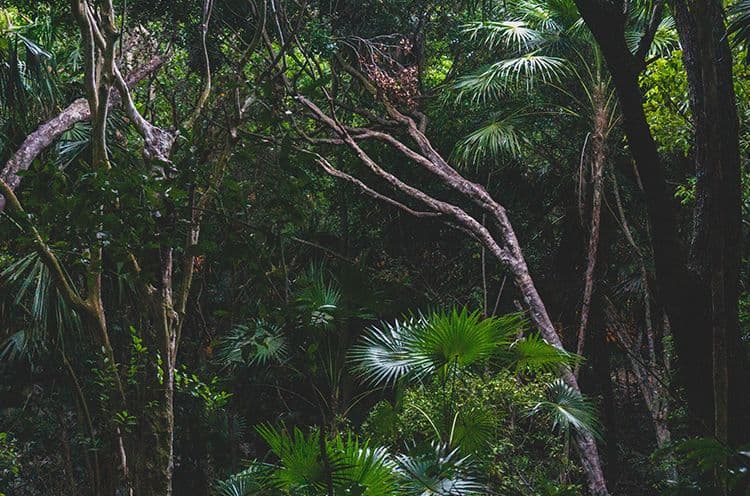 7. Gold Coast Regional Botanic Gardens
Sometimes, the best way to spend a day is surrounded by manicured yet wild landscapes. At the Gold Coast Regional Botanic Gardens, feed your senses with thousands of sweet smelling blooms. Inside, you'll find a Native Butterfly Garden, a mangrove to mountain walk, and a gorgeous rose garden.
Kids will love the playground, which will keep them entertained for hours on end as they play under the shade of the trees. Make your way across the stepping-stones or pitch up by the lake and enjoy an Alfresco picnic with the whole family.
There are also plenty of awesome walking tracks perfect for all abilities and age levels. You'll also find barbecue facilities, picnic areas and shelters dotted around the gardens. Explore the best that nature has to offer and get ready to build some lasting memories in this little slice of heaven.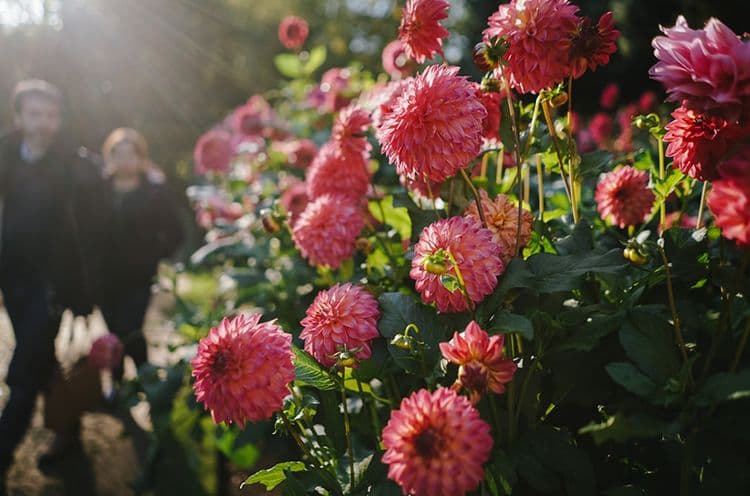 8. Pelican Feeding Fun
If you're looking for something fun and free to do near Surfers Paradise, feeding pelicans is an amazing experience. Make your way to the Ian Dipple Lagoon and hand feed these mighty and majestic birds by hand.
Feeding times start everyday at 1.30pm, so make sure you arrive nice and early for your chance to join in. The lagoon is also a top spot for enjoying a swim or digging into a picnic under the sun. Plenty of open space gives the kids a chance to run free and burn off any excess energy.
You can also enjoy up to two-hours free parking here. Reaching the lagoon and pelicans from the hotel takes under 15-minutes by car, making it ideal for a last minute day out.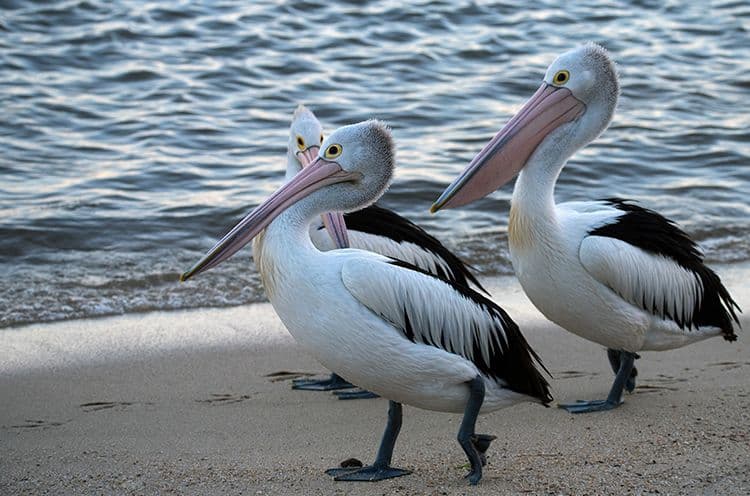 9. Southport Rockpools
Southport Rockpools are by far one of the best free things to do with kids on the Gold Coast. Think of it as an all-in-one destination that doesn't cost you a dollar. This aquatic entertainment complex is the perfect place for kids to run free and cool off from the heat of the day.
Everything from man-made waterfalls and creeks to exhilarating water jets and fountains are here to be enjoyed. There's also an amazing play park located at Broadwater Parkland, just a couple of minutes' walk away. Bouncy pillows, climbing zones, a flying fox and much more is a sure-fire crowd pleaser.
You'll definitely want to pack up some snacks and drinks when heading here. It's also a good idea to take plenty of sunscreen with you too. Forget about expensive water parks when you have something equally as awesome the kids will love, and best of all... for free.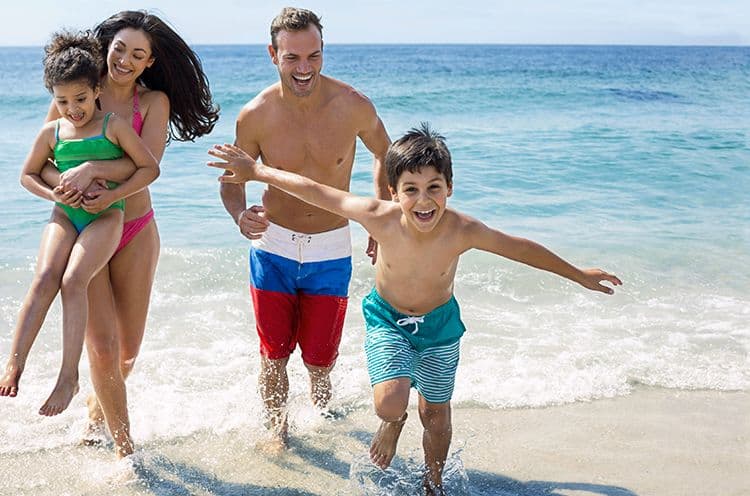 10. Federation Walk Coastal Reserve
Federation Walk Coastal Reserve is one of the best places to enjoy an early morning or late afternoon bush walk. The main trail meanders it's way past areas of forest and macaranga groves. If you have little ones in tow, a mix of local wildlife and rolling sand dunes will keep them entertained.
There are literally hundreds of species of bird to be found here. From colourful cockatoos, kingfishers and parrots to mesmerising owls, eagles and hawks, it's a bird lover's paradise. Make sure you take your phone to get plenty of those all-important holiday snaps.
Running alongside the coastal reserve is a large, pristine beach perfect for cooling off from the heat of the day. Take a bucket and spade and let the kids spend the afternoon building castles and forts. It's also another great place to enjoy a picnic and make the most of the free and natural beauty of the area.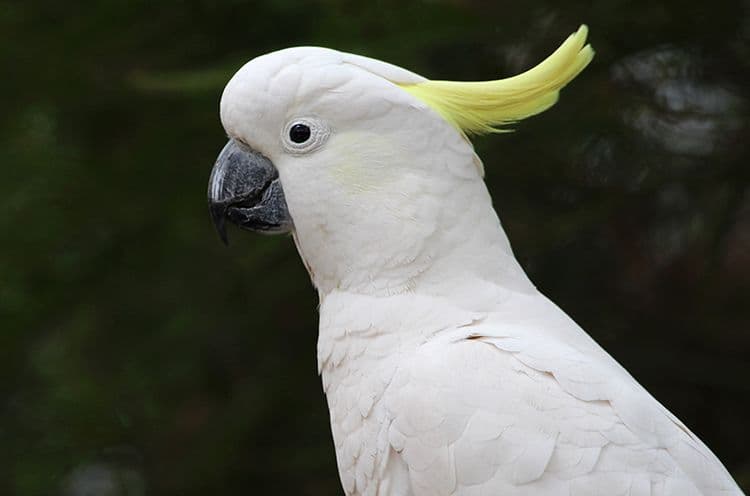 11. Gold Coast City Art Gallery (HOTA)
For something a little bit more relaxed and detached from the hustle and bustle of the world outside, the Gold Coast City Art Gallery (HOTA) is a great choice. It's a fantastic place for adults and kids alike, with plenty of fun and interesting things to see and do.
Inside the gallery you'll find plenty of inspirational kid friendly activities and exhibitions that let them explore their creative side. For adults, a world of local and international art designed to provoke the mind is waiting. Both historical and contemporary displays highlight the evolution of Australia in unique and creative ways.
Throughout the year there are plenty of events held here. You can also enjoy the Riverside Evandale sculpture walk, which places artistic sculptures against a backdrop of the City skyline. Entry is free, and it's an experience that's both educational and entertaining.
Other Notable Places of Interest
Visit Macintosh Island Park
Make your way round Cavill Mall
Explore the Esplanade at night
See Peacocks at Les Rodgers Memorial Park
Catch live entertainment at Cavill Avenue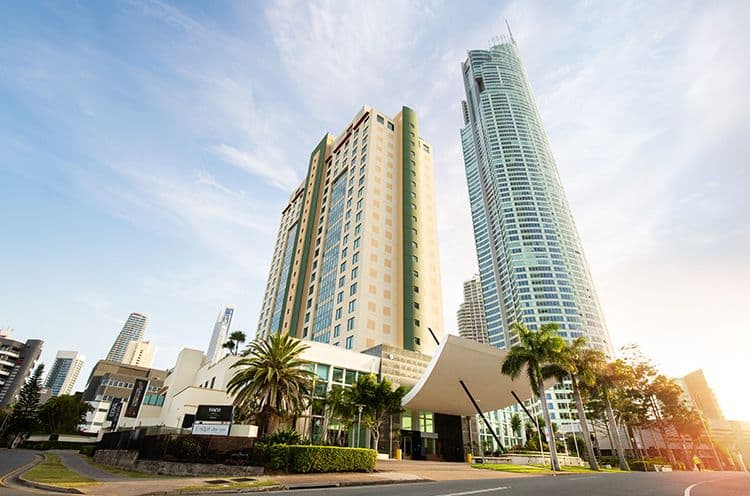 At voco® Gold Coast our stylish and modern accommodation are perfect for amazing family holidays and beach escapes. Our rooms and suites fit everybody's needs, with everything you need for a comfortable and relaxing stay in Surfers Paradise. Sun, sand and the buzzing atmosphere of Surfers Paradise are raring to go. Are you?