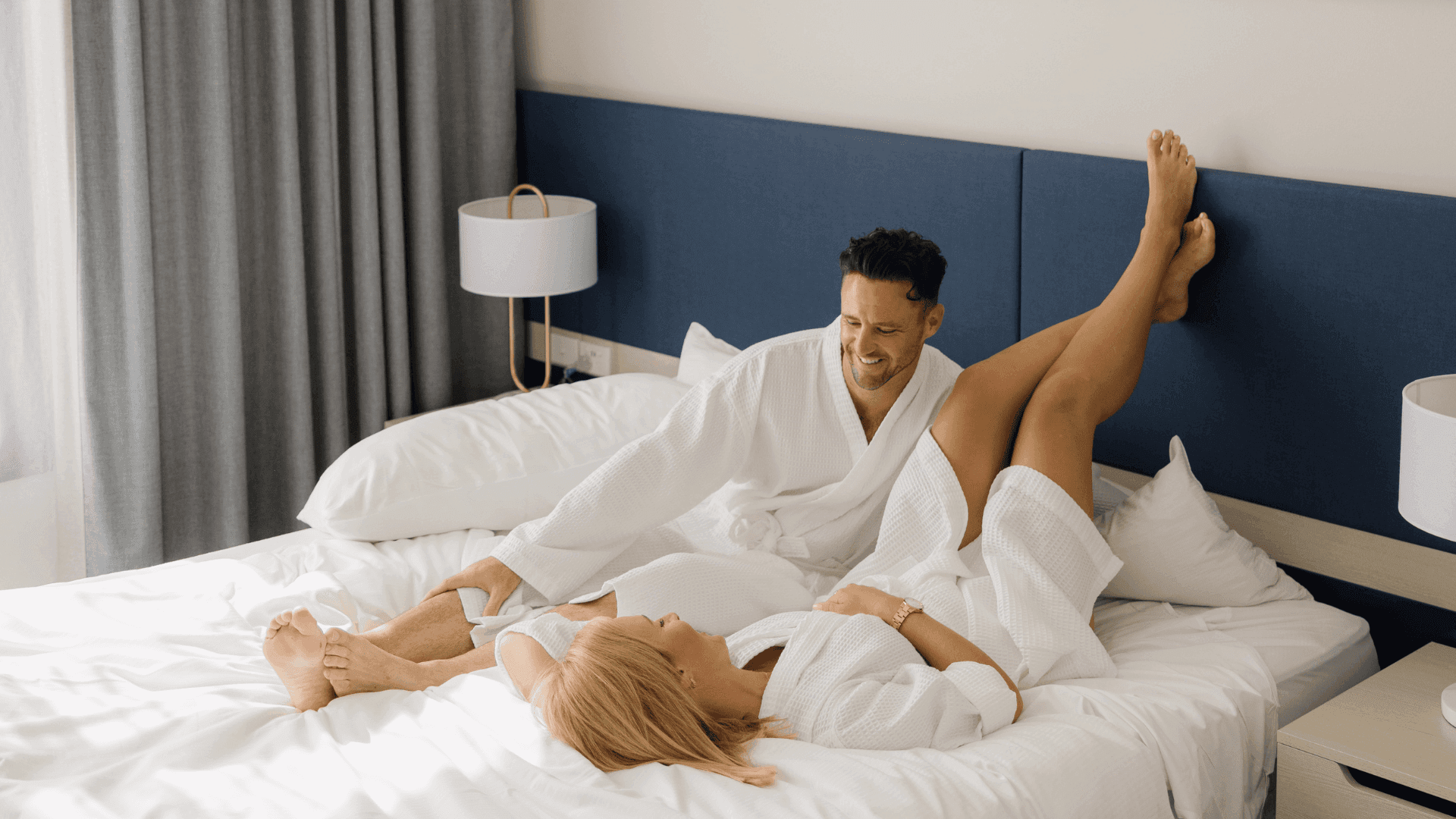 The Best Gold Coast Accommodation for a Couple's Romantic Weekend Away
Scroll to explore
The Best Gold Coast Accommodation for a Couple's Romantic Weekend Away
When it comes to reigniting the romance in your life, it's not always about four poster beds, scattered rose petals, and chocolates on the pillow; especially if you and your partner value something a little more unique. Instead, it's about choosing a beautiful destination with accommodation that offers cloud-like comfort, thoughtful and inspired touches, as well as unspoiled views from the comfort of your room.
Imagine waking up to views of the glittering Pacific Ocean and lush hinterland vistas. Or sipping on flutes of bubbles while enjoying a tub of bubbles, again, with those stunning views. Say goodbye to tired old cliches and hello to romance-amped escapes when you check into the best voco® Gold Coast.
To help you plan the most romantic couples weekend away, here are some of our top tips when choosing your Gold Coast accommodation and what to look for.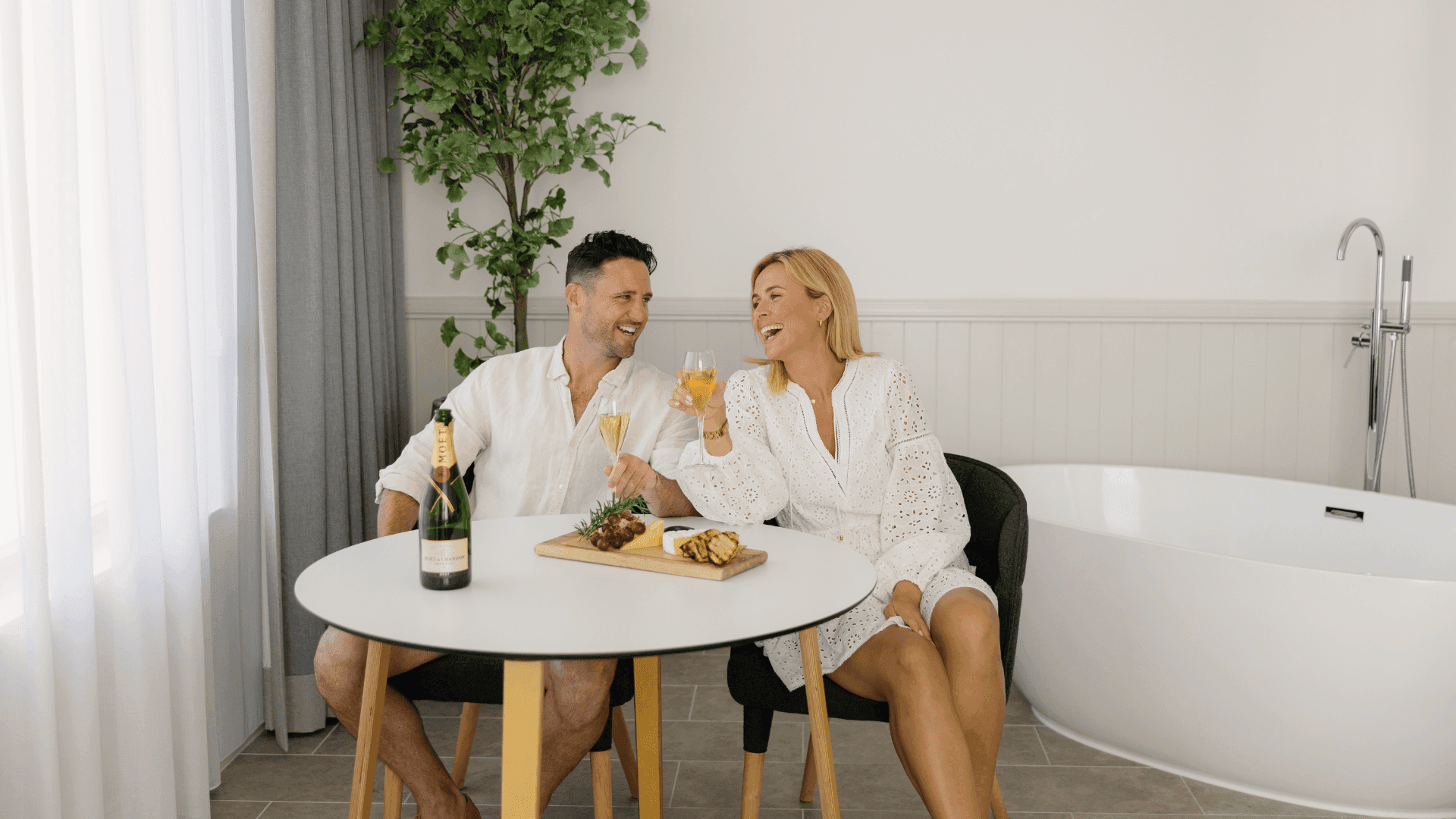 Suites made for hitting the snooze button
The beating heart of any romantic getaway is the accommodation. From being somewhere to reconnect and rediscover each other in absolute comfort and style to somewhere to relax after a long day of making memories, your Gold Coast accommodation should reflect your romance.
With more than 389 rooms and suites to choose between, finding something that you'll both love has never been easier. Of course, when it comes to upping your romance game, nothing quite does it like checking into a spacious and stylish suite overlooking the Pacific Ocean. Both the Spa Suite and Retreat Suite serve up generous amounts of space, deluxe facilities and amenities, indulgent spa tubs with unspoiled vistas, and exceedingly comfy King beds designed for reconnecting, relaxing and drifting off in.
Hit snooze and enjoy sleeping in before starting your day with an invigorating shower, a fluffy robe and the morning newspaper with a decent cup of coffee together. Then make your way downstairs for a delicious a la carte breakfast before heading out to browse the shops, enjoy the beach and see the views - hand in hand, of course.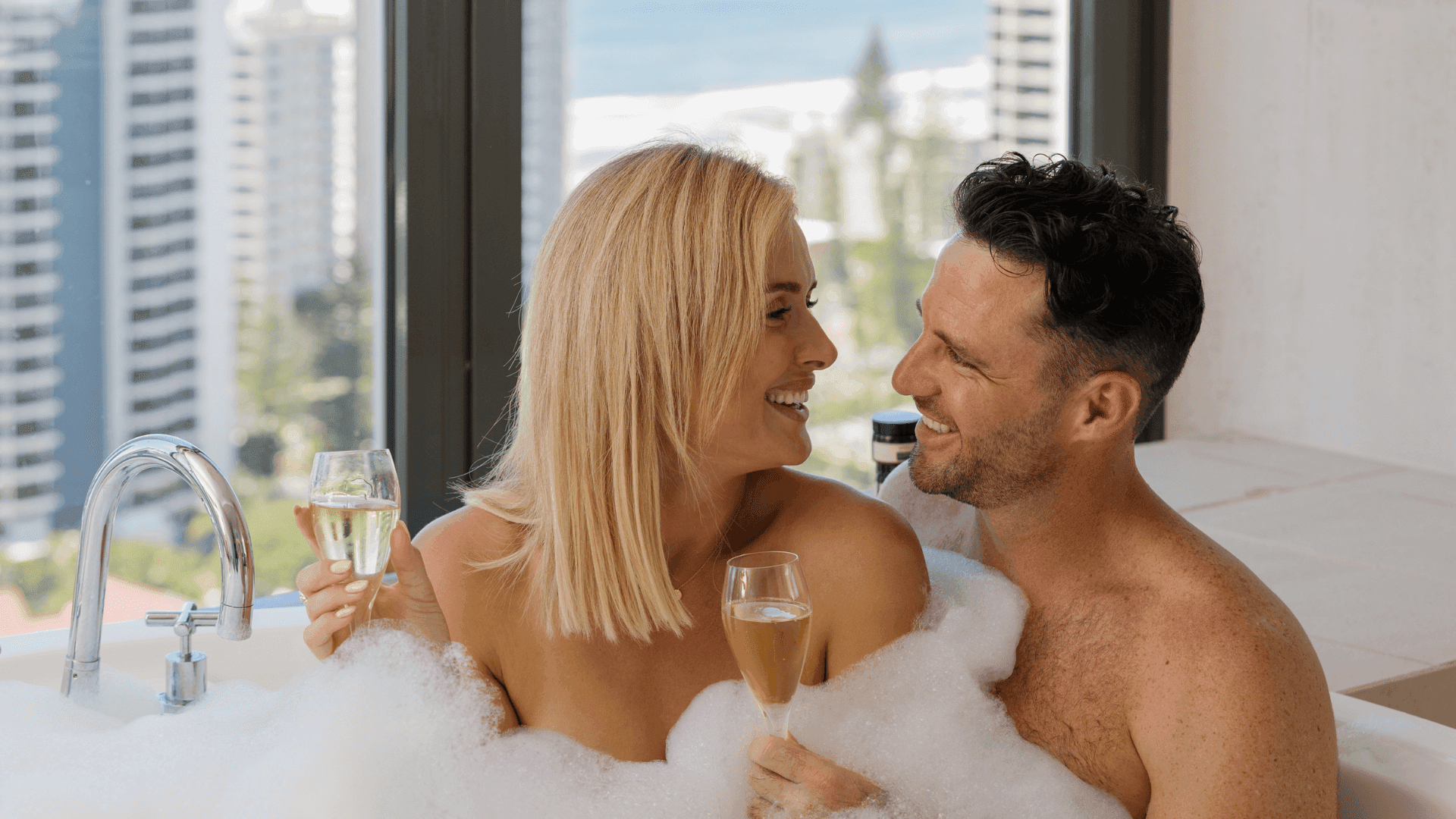 Rediscover romance on the Gold Coast
Make the most of your Gold Coast accommodation by taking full advantage of the facilities on offer at voco® Gold Coast. Spend time soaking up the sun or cooling off from the heat of the day in either of our sparkling outdoor pools, allowing you to follow the sun throughout the day. Or perhaps enjoy working out together in our fully-equipped 24-hour gym, with everything you need to work out your way..
While there are thriving bars, restaurants and cafes to choose between within the hotel, there's nothing quite like a romantic dinner for two in the comfort of your room to fan the flames of romance. Why not order yourself a bottle of something special, paired with fresh and local seafood, devilishly sweet desserts and seasonal fruit with the renowned vocoTM In-room Dining?
Less than a gentle 10 minute stroll from voco® Gold Coast, you'll find the Surfers Paradise Beachfront Markets, Surfers Paradise and Gold Coast Beach, Cavill Avenue, Paradise Centre and a wealth of iconic attractions. Or jump on the G:Link and glide down the Gold Coast to Broadbeach, Burleigh and beyond, creating an itinerary to fit your time away together.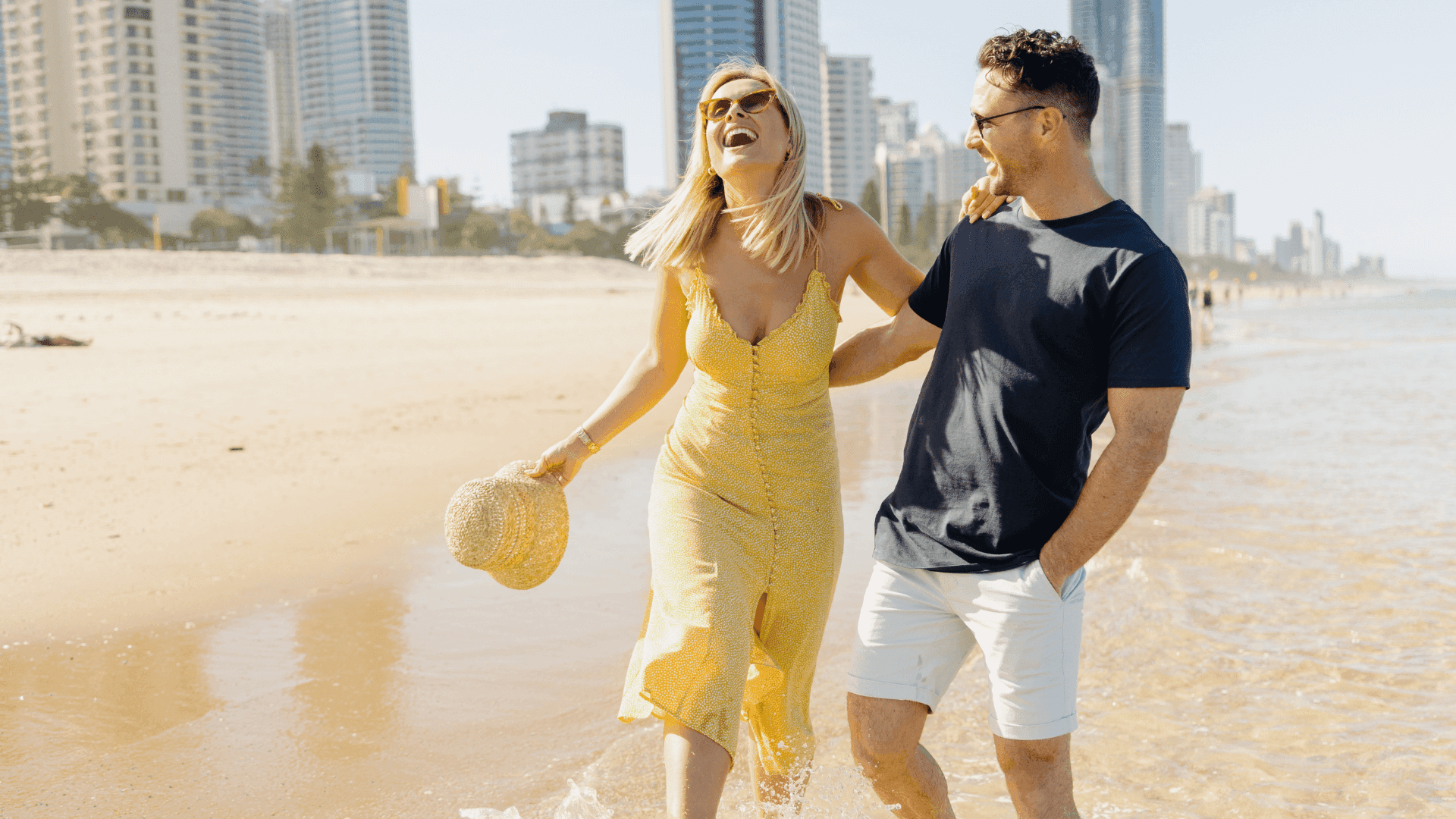 Romantic relaxation at L'Aqua Day Spa
Sometimes, the best way to reconnect is to disconnect first - which is exactly what you'll do when you step inside L'Aqua Day Spa. Take your time and enjoy a thorough pampering as a couple, with dedicated couples treatments on the menu. Of course, if you want to go solo while the other enjoys a swim or some downtime in the guest room, by all means, the choice is yours.
The 'Couples Retreat'' Spa menu includes irresistible pamper sessions, including the 100 minute Marriage Pamper Package, which includes a 50minute massage, a 30 minute facial and time in the private jacuzzi - sparkling wine, strawberries, and chocolates included. The 100 minute Massage Retreat for 2 includes a simultaneous 50 minute relaxation massage followed by a 20 minute private jacuzzi session. Lastly, the 120 minute Ultimate Couples Indulgence includes an exfoliating scrub massage, a deluxe body wrap, a neck, shoulder and back massage and time in the jacuzzi with all the trimmings.

Want to treat your special someone to an individual Spa Gift? Then why not purchase one of our exclusive L'Aqua Day Spa Gift Vouchers to add that extra-special touch to your stay?
Wine and dine in style
Whether you want to go all out with a fine dining experience or are a couple who prefers something a little more low-key and intimate, voco® Gold Coast has the perfect restaurant and bar for you. Celebrate your love at the finest Grill & Lounge on the Gold Coast at Clifford's Grill & Lounge, with rich and smoky grilled meats, fresh seafood, decadent desserts and fine wine waiting to be explored.
For something a little bit more relaxed, connect and celebrate over hand crafted cocktails, small plates of flavour and your favourite beers, ciders and dry options at Social House Cocktail Bar. Sip on flavour-loaded creations, perfect for a relaxing evening in one of the best cocktail bars and Cafes on the Gold Coast. Enjoy warm and flaky pastries, light bites, salads and wraps throughout the day before the lights dim and the atmosphere changes to more of a romantic, jazzy lounge.
And should the mood take you out into Surfers Paradise, Broadbeach, Burleigh or the surrounding area, you'll be treated to a huge variety of international and local cuisines in award-winning restaurants serving up fresh flavours, seasonal ingredients and plates made for sharing.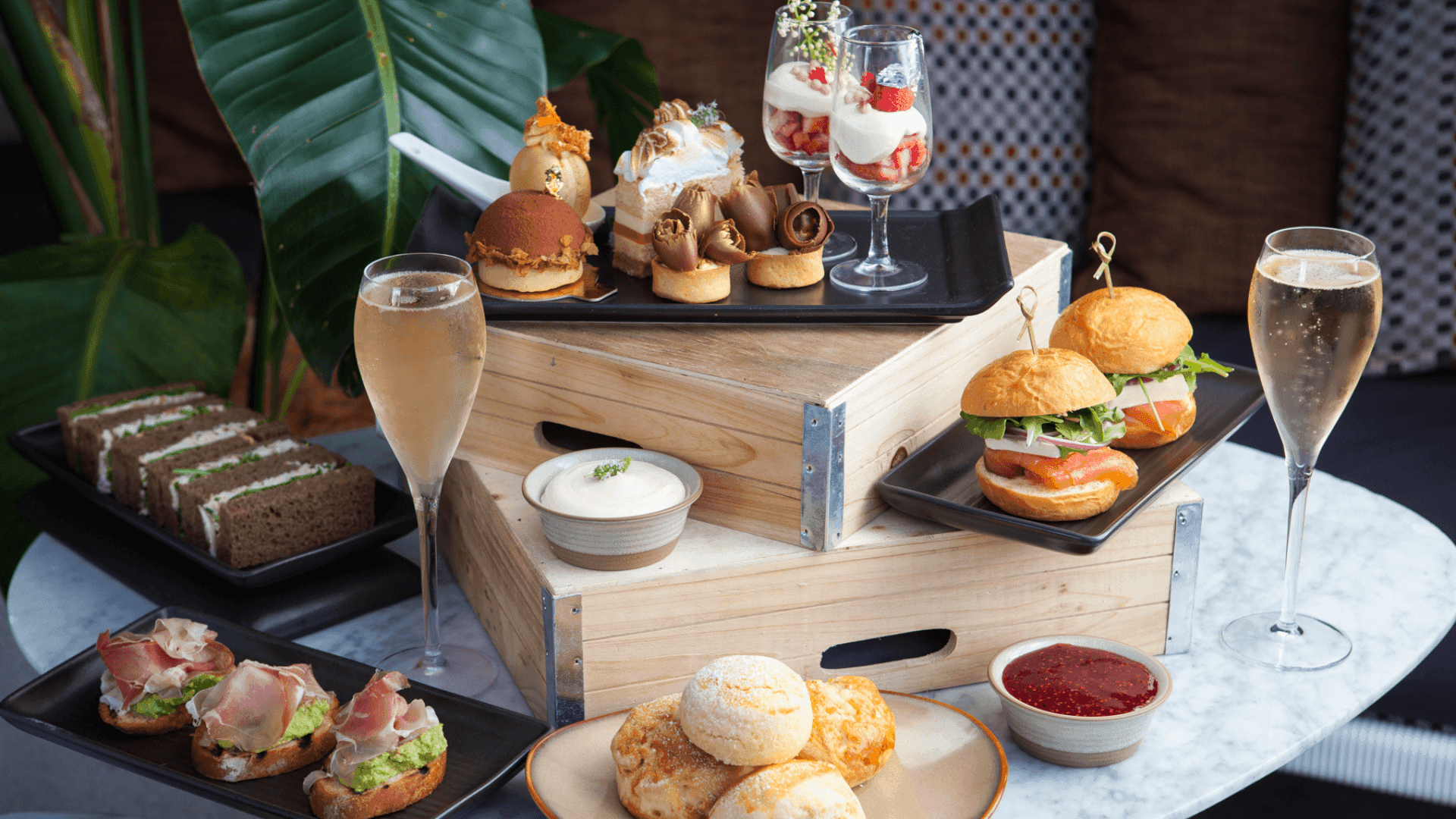 Take your love to new heights when you check into voco® Gold Coast, with Gold Coast accommodation that never fails to deliver maximum comfort, style and location. Enjoy bars and restaurants made for romance, rooms and suites made for reconnecting, and facilities made for relaxation in the heart of the glorious Gold Coast.